Track practice bus will leave MHS daily @ 3:00. Practice will run from 3:30 to 5:30. A bus will head back towards MHS at 5:35 - you can base picking your athletes up on this schedule unless otherwise notified.

Dear Midkota families - This is a friendly reminder that Midkota Schools will have early dismissal at 1:30 pm today (Thursday, March 2) for Parent-Teacher Conferences. Conferences will run from from 2-8 pm at Midkota High School in Glenfield. Lastly, there is No School tomorrow (Friday, March 3). Have a great 3 day weekend!


Good afternoon Midkota Elementary. Thank you for a great day of Virtual Learning! We are so thankful for our supportive families that help our students to Zoom with us! We also want to assure our students that we will kick-off Reading Month tomorrow, and students may wear their "Seuss"- striped apparel then. Mr. Hoyt would also like to remind students to turn in their American Heart Association fundraising packets to the office tomorrow.

Track practice for today March 1st, has been cancelled. Practice is now scheduled to start tomorrow.

Good morning again, For some clarification, Virtual Learning will begin according to our plan - 8:30 for HS direct instruction and elementary having their support time. Thank you all.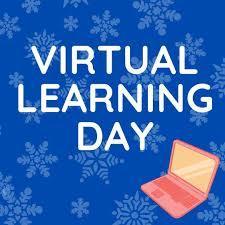 Good evening Midkota families - With this evening's continuing snowfall and the onset of winds expected to increase into the nighttime hours, Midkota Public Schools and buses will run 2 hours late tomorrow, Wednesday, March 1. Have a good evening and stay safe Midkota.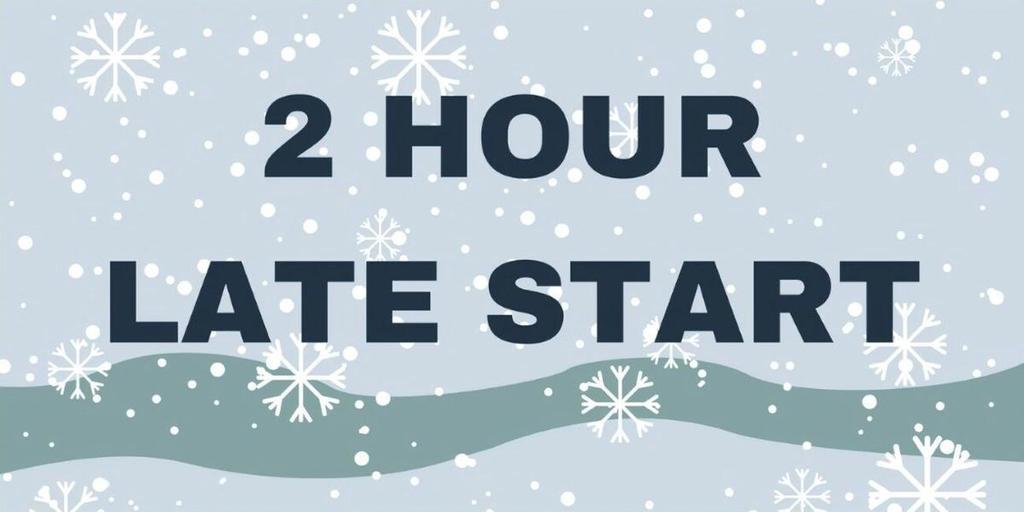 Guess what Midkota Elementary?! Reading Month starts tomorrow, March 1st, and the Midkota Mystery Machine is ready to swing into action! A mysterious character may have already visited the school and left some evidence behind. Help us solve the mystery and read, read, read! Tomorrow's dress up day is Striped Apparel in honor of Dr. Seuss Birthday.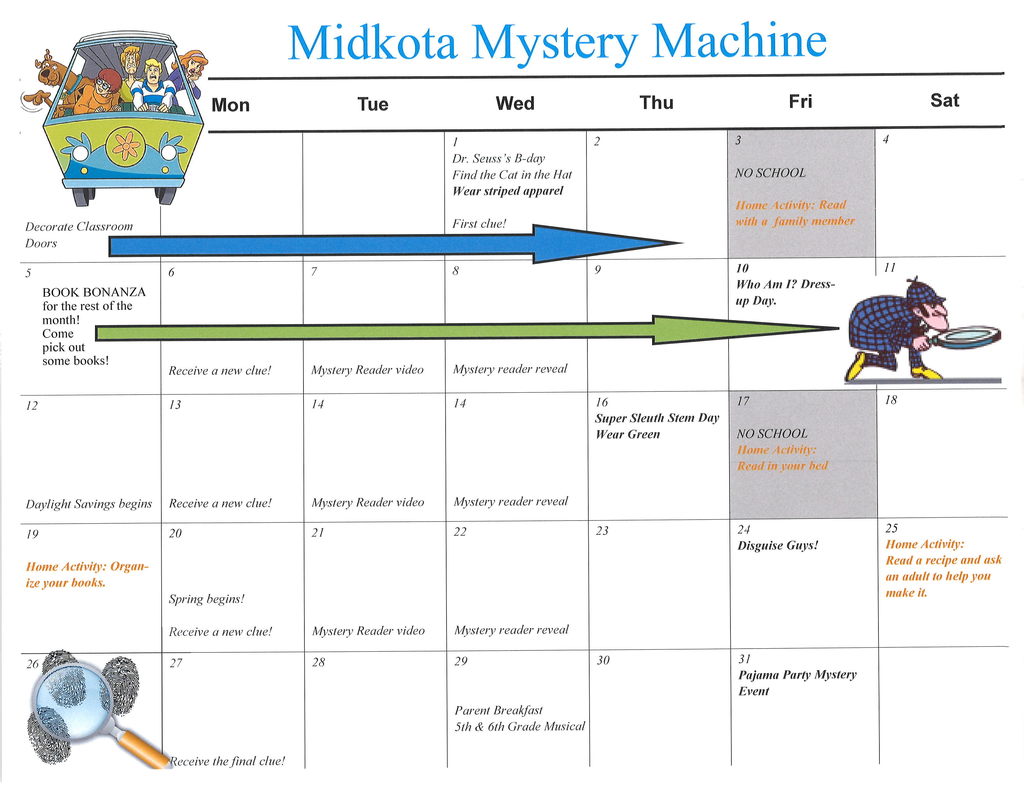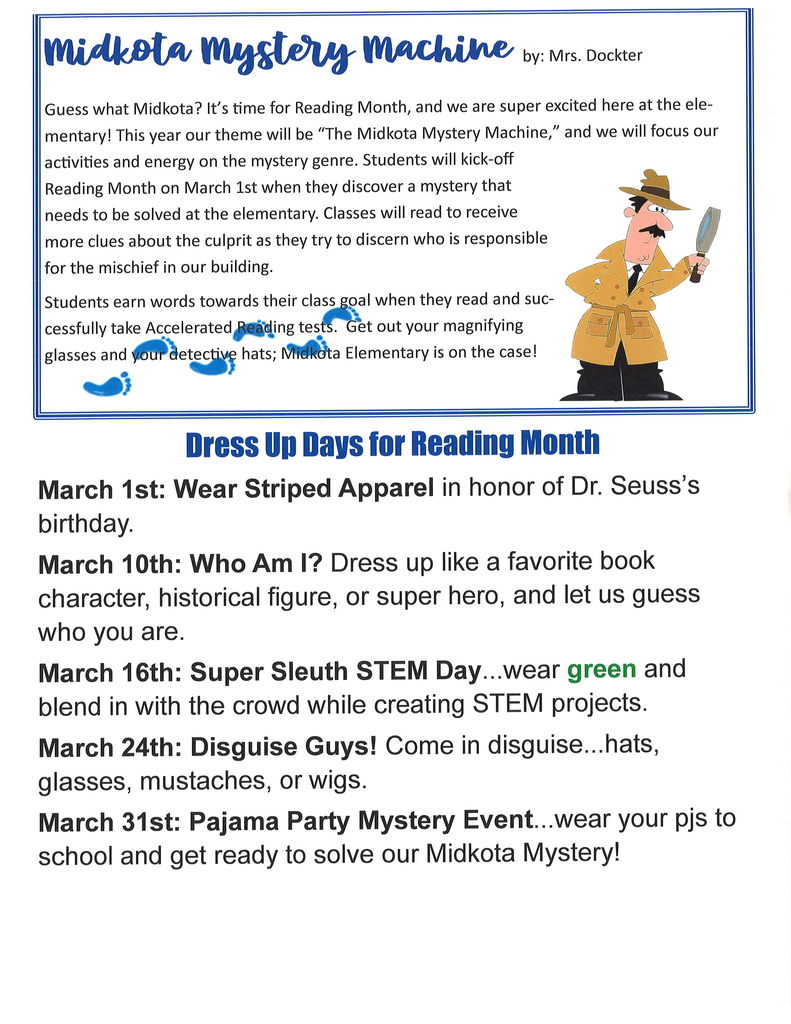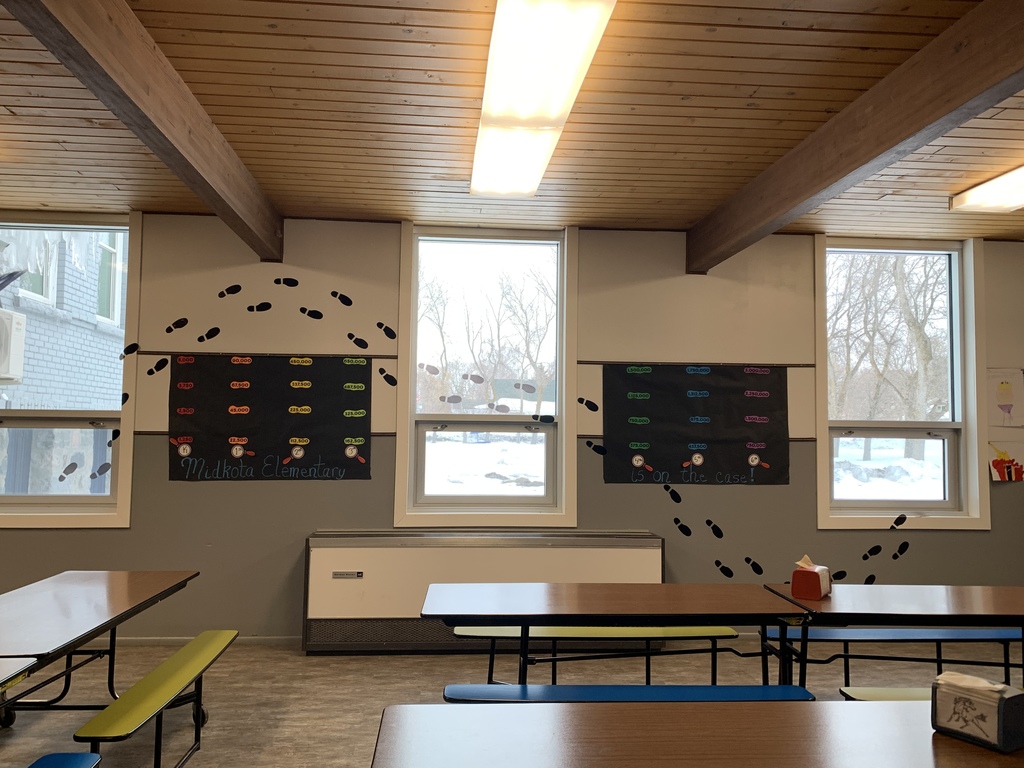 Track practice is scheduled to start tomorrow 03/01. If more updates come about with practice changing it will be posted on here.

We apologize for posting an unedited version of the Messenger yesterday. The updated version will posted after corrections are made.

Due to potential weather BBB District 5 tournament will be moved up to 2:00 today. Griggs- Midkota will play @ 3:30, the second game of the day.

Hello Midkota families - This is a friendly reminder that Midkota Schools will have early dismissal at 1:30 pm on Thursday, March 2 for Parent-Teacher Conferences. Conferences will run from from 2-8 pm at Midkota High School in Glenfield. Lastly, there is No School this Friday, March 3. Have a great evening!


Elementary VB Practice starts Monday, March 6th @ 3:45pm in the gym at MES. See below for full practice and game schedule.

Elementary Volleyball practice will start a week from today. Full schedule including practice will be sent out shortly.

Fargo, N.D., Feb. 14, 2023 – The Red River Valley Writing Project at North Dakota State University and Plains Art Museum have announced the regional award recipients of the 2023 Scholastic Art and Writing Awards. It is the country's longest running and most prestigious recognition program for creative students in grades 7-12. This year, 90 creative teens from North Dakota received regional honors, including Gold Keys, Silver Keys, Honorable Mentions and/or American Visions and Voices nominations from the local Scholastic Awards Affiliate. "For creative teens in North Dakota, these awards are equivalent to what the state tournaments are for athletes – a recognition of hard work and a showcase of talent," said Benjamin Melby, director of the Red River Valley Writing Project at NDSU. "Every teen in North Dakota, from Belcourt to Beulah, from Williston to Wahpeton deserves recognition for creative talent in writing and art. Midkota High School had one recipient of the Writing Award: Abigail Dreher, Senior! All Gold Key, Silver Key and Honorable Mention award-winning works will be on display at the Plains Art Museum's Starion Gallery from February through March 4. The North Dakota state awards ceremony is scheduled for March 4 from 5:30-8 p.m. at the Plains Art Museum in Fargo. Over $2,500 in cash prizes will be awarded at the ceremony thanks to the generous sponsorship from John Deere. The winners of NDSU scholarships in art and writing will also be announced, along with this year's American Voices nominees. For Gold Key works of art and writing in the 29 categories, including architecture, painting, flash fiction, poetry, printmaking, video game design and more, the opportunities for recognition will continue when those works are adjudicated again on a national level by a panel of leading creative professionals. National gold medalists will be announced on March 22 and will be honored during a special awards ceremony at the world-famous Carnegie Hall in New York City in June. Since the program's founding in 1923, the Awards have fostered the creativity and talent of millions of students, including renowned alumni who have gone on to become leaders in their fields, including Andy Warhol, Truman Capote, Richard Avedon, Philip Pearlstein, and Sylvia Plath. More recently, Stephen King, Richard Linklater, Zac Posen, Lena Dunham, and Amanda Gorman received Scholastic Art and Writing Awards when they were teens. Congratulations Abigail!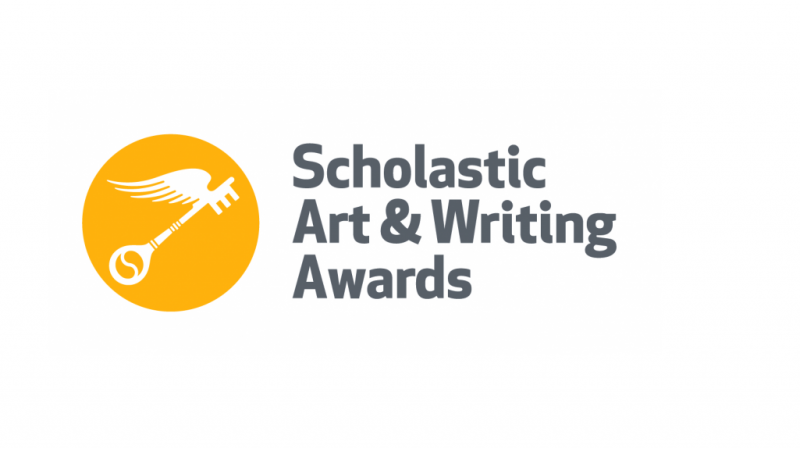 Have a great week!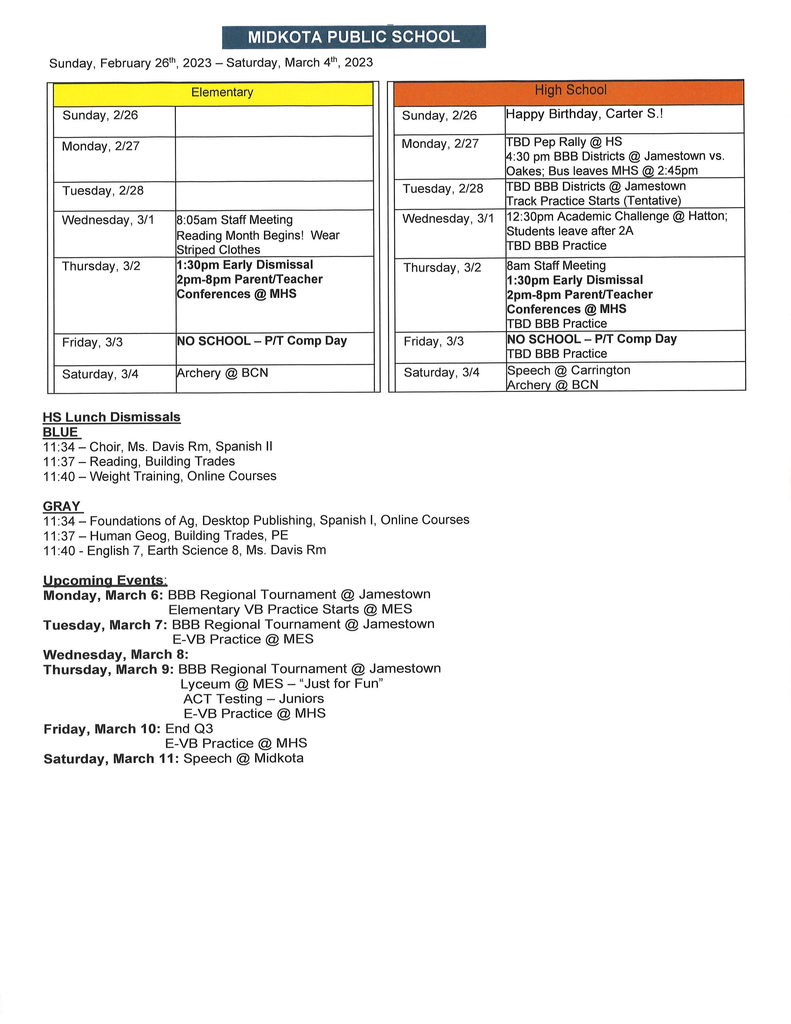 Leave time for BBB districts from MHS is 3:30.

Good evening Midkota families, Tomorrow, Friday, February 24, we anticipate school and buses to be running on time. However, we are aware that there are some gravel roads and driveways that may not be passable just yet. Please clear your roads /driveways for buses where possible and contact your bus driver if roads in your area should not be traveled in the morning. Thank you for your help in getting our students to school safely. Stay safe and have a good evening Midkota.


In honor of National FFA Week, Midkota students have been hosting a variety of activities! Students have been active in dress up days, trivia questions and on Friday, there will be some fun group activities and games. Watch for photos to come! FFA is in its 2nd year at Midkota. Midkota's FFA Advisor is Mr. Gavin Black. FFA was founded in 1925 continues to be the premier youth organization preparing members for leadership and careers in the science, business and technology of agriculture.