2023 Teen Creative Writing Camps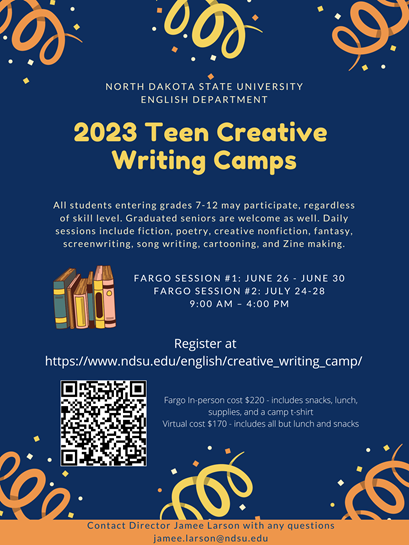 Virtual Health Careers Fair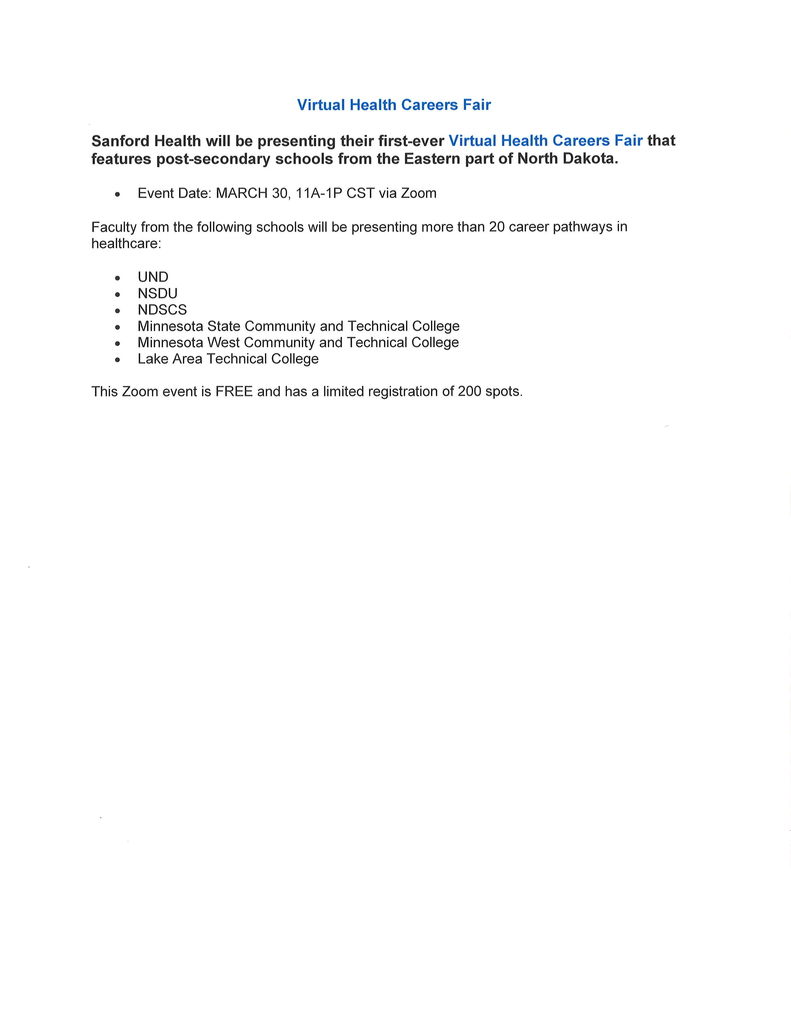 Elks Camp Grassick - Summer Job Opportunity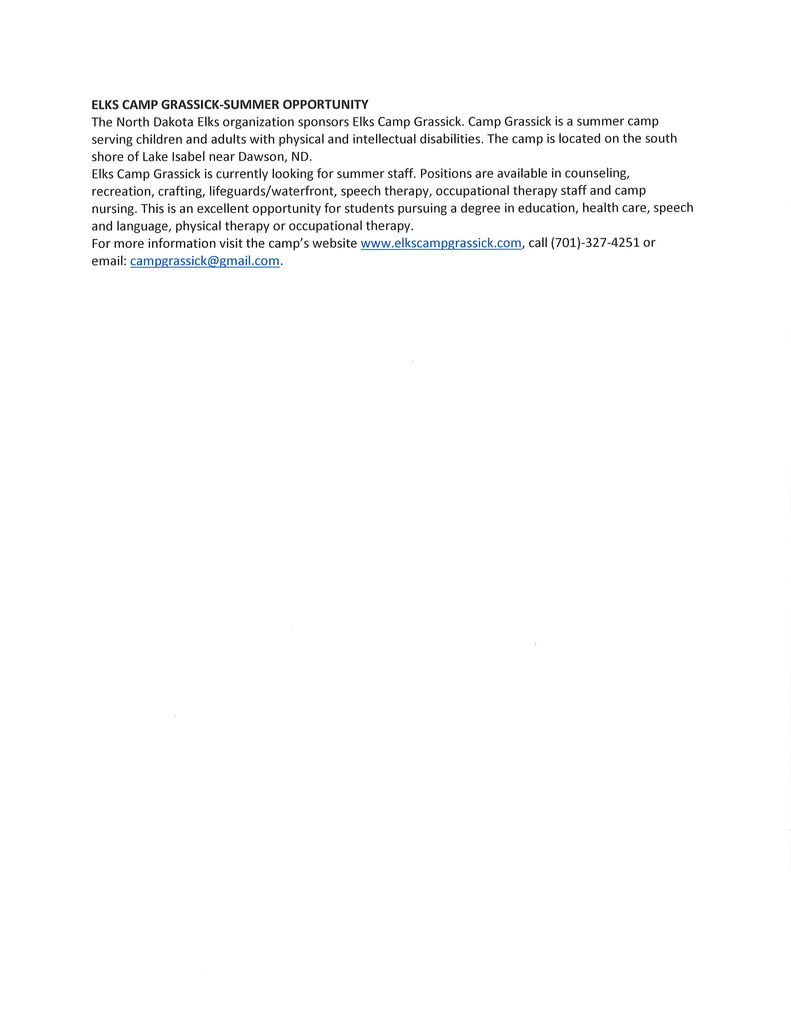 Girls State 2023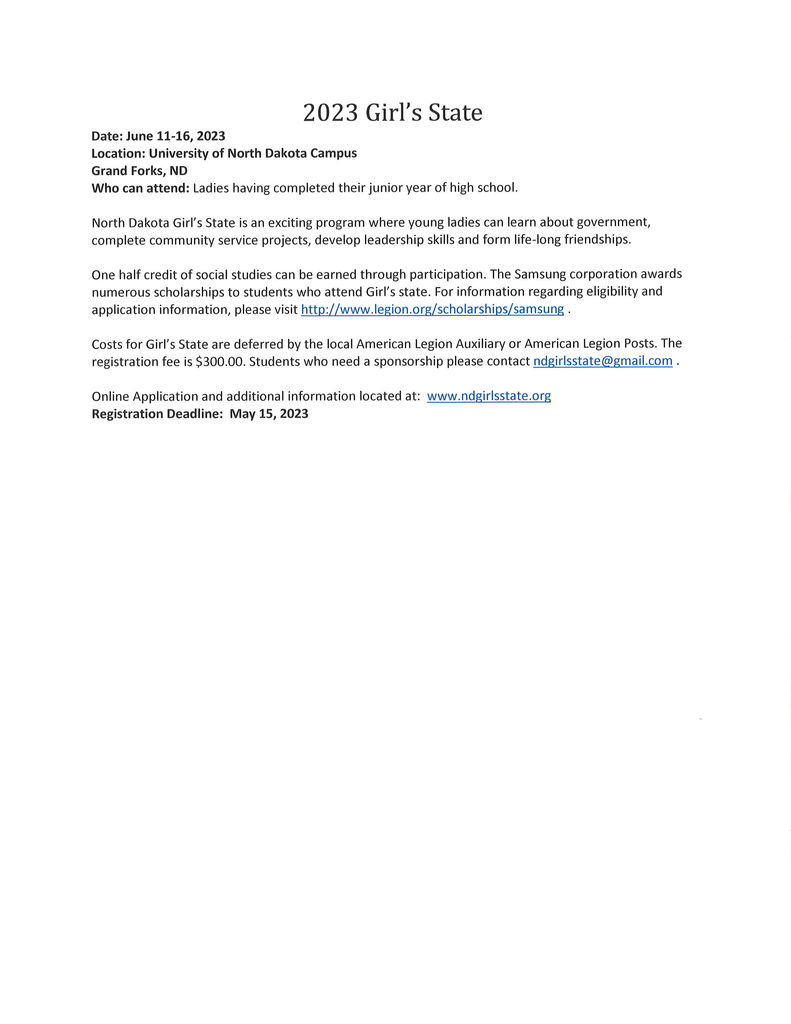 Leadership Opportunity for Sophomore Students The 2023 North Dakota Leadership Seminar (NDLS) will be held June 2-June 4, 2023, at the University of Jamestown in Jamestown, ND. This program is open to students completing their sophomore of high school. The seminar is provided at no cost to students, parents, or schools. The school is seeking a student from the sophomore class represent our school. The student must provide their own transportation to the event. Students attending participate in leadership development, community involvement and volunteerism through interactive sessions with business and community leaders from across North Dakota. Some of the activities include mock legislature, constitutional debate, keynote speakers, teambuilding activities and completion of a service project. NDLS provides students the opportunity to build strong friendships with other youth leaders from across the state and grow as an individual. Registration and more information about the NDLS Program can be found at
www.ndleadership.org
If there is a lot of interest, the school may request that interested student's write a short essay or the staff may recommend potential student candidate(s). If your student is interested in attending NDLS, please contact Iris Brandt, counselor. The registration deadline is April 1, 2023.

Students and families looking for opportunities to learn about healthcare careers in fun, hands-on environments this summer? Sanford Bismarck is partnering with our local colleges and universities to provide a full-spectrum of camps for grades 1-12!!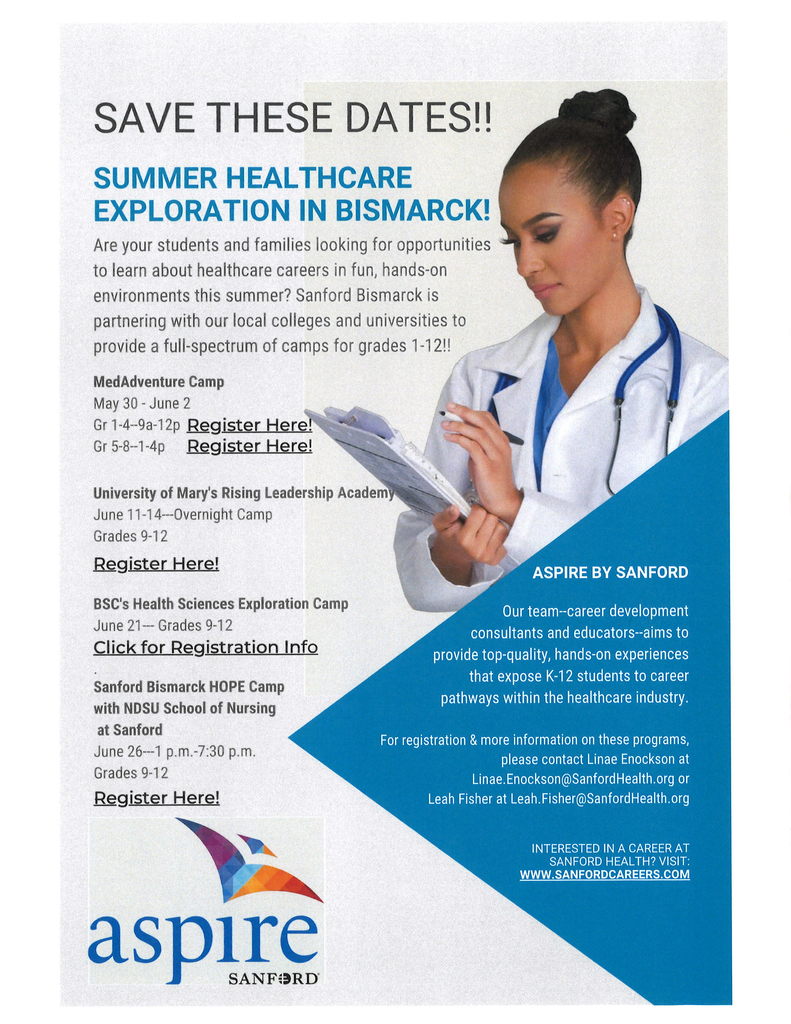 Sanford Health Fargo is offering a few great camps this summer for your students who are interested in exploring a career in the amazing field of health care. The camps are offered cooperatively with our local academic partners and focus on a hands-on approach to learning more about these career fields. The camps are open to rural students who are entering their junior, senior year in 23-24 or those who will be graduating this spring.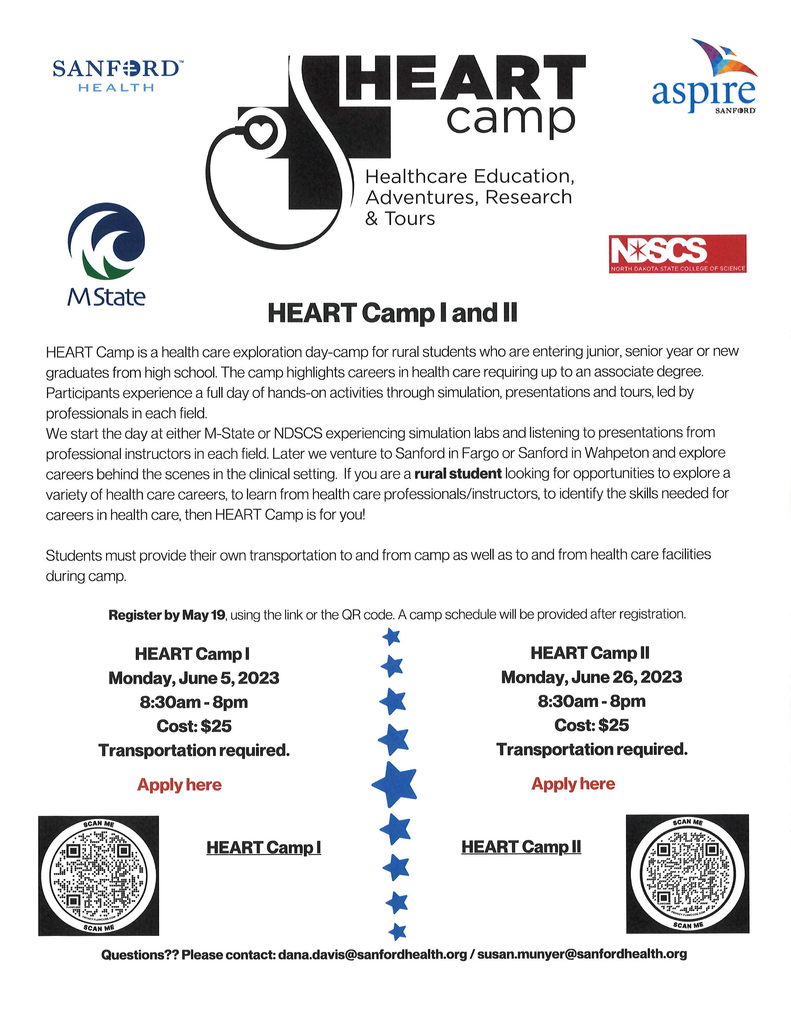 Good morning Midkota families, Midkota Public Schools and buses will run 2 hours late today, Wednesday, March 22 due to road conditions. It is our hope that daylight will benefit students and staff with safer travel conditions by allowing plows to clear the roads. If you are a family that uses the bus, we ask that you contact your bus driver if you believe your road is impassable. Thank you and stay safe Midkota.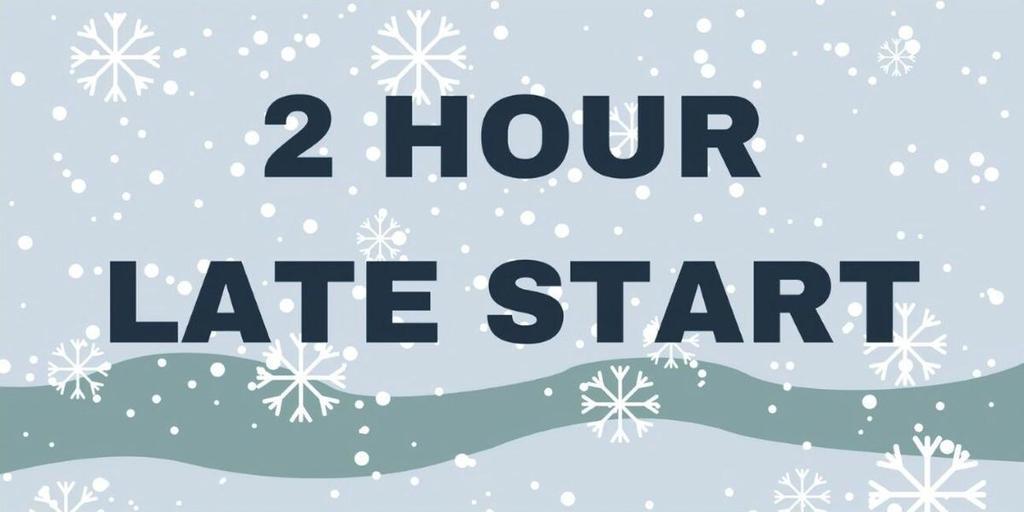 On Tuesday, March 14, Midkota's Band and Choir participated in Region 5 Large Group Music Contests at Carrington High School. Our Midkota Music students brought home three "1's" (Excellent) and one "2" (Good) in total. Mr. Anderson received many compliments on how professional Midkota's groups were in presenting themselves and in their performances. Dareien Lund, an adjudicator who also heard our groups last year, commented "Midkota! Great improvements! I am so proud of your hard work! Keep making music!". Please congratulate our Midkota Music students next you see them. They are all doing a fantastic job and are creating something special that everyone in our communities can be be very proud of!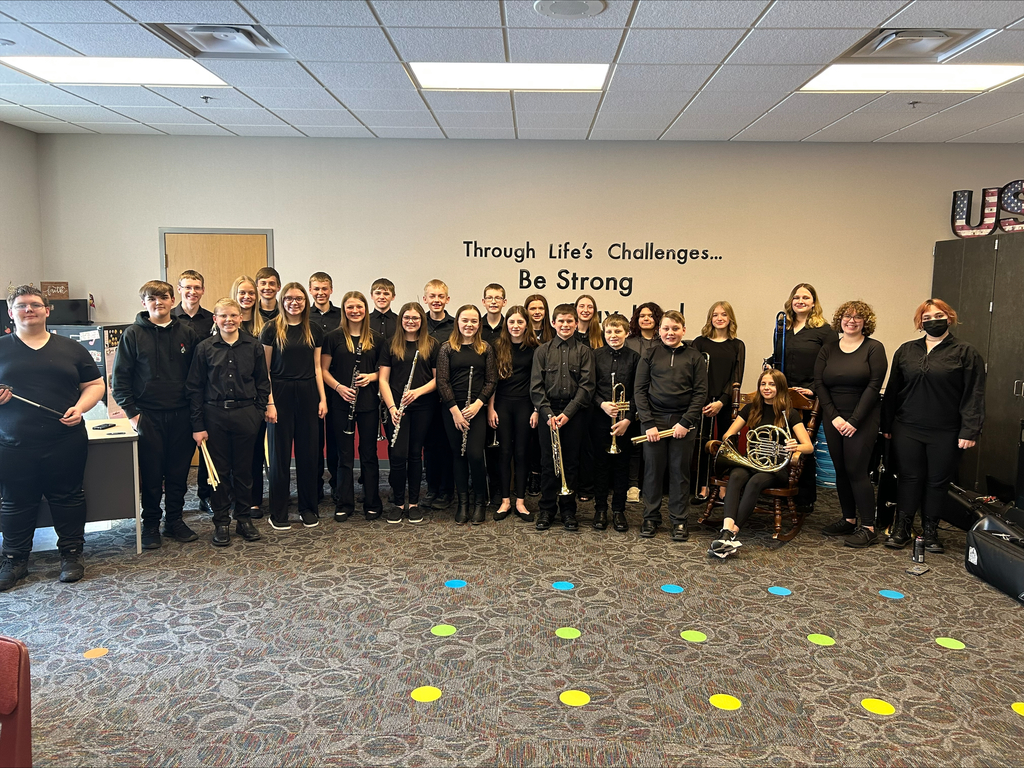 Midkota is Hiring! Midkota Public Schools has an opening for Business Manager. This position is year-round. Starting pay is commensurate to experience. On-the-job training will begin immediately. The district is open to this being a 3, 4 or 5 day position as well as the location the successful candidate would be based at (i.e Glenfield or Binford campuses). Job duties include (but are not limited to) overseeing an assistant business manager and an HR/Payroll clerk, filing and/or ensuring county, state and federal reports are completed accurately and submitted in a timely manner, managing district elections, reconciling accounts, providing monthly financial updates to the school board, working with district administration on setting and maintaining the yearly budget, and ensuring district is in compliance for the yearly audit. Benefits include NDPERS state pension contribution match, life insurance, health insurance, disability insurance, seven paid holidays, sick leave, vacation leave, and free admission to all district sporting events. In addition, the district offers flexibility in a work schedule that is beneficial for individuals with families. Minimum requirements: High School Diploma, friendly personality, excellent organizational skills and strong communication skills. Fluency with computers and Microsoft Office programs is desired. Preferred qualifications are experience with North Dakota school finance, an accounting degree, and experience with accounting software. Employment Applications may be obtained at either Midkota School campus or online at
https://www.midkotaschools.k12.nd.us/
under MENU>>DOCUMENTS>>Staff Documents, or by calling 701-785-2126. They may be returned to either campus office or by email to
ryan.baron@k12.nd.us
. Questions may be directed to Superintendent Baron at 701-785-2126. Application deadline: Open until filled. Midkota School District #7 is an Equal Opportunity Employer.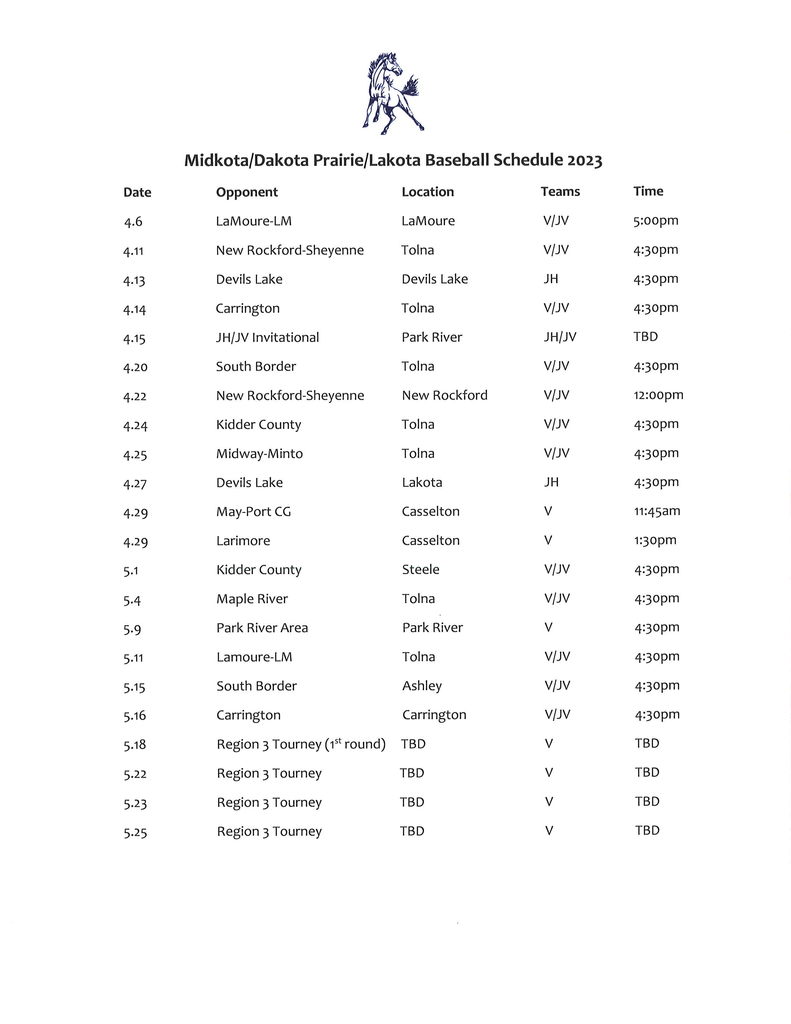 Congratulations to Midkota's new National Honor Society members! The newest inductees are Vanessa Vollmer, Will Spickler, Kylie Johnson, Mason Iverson and Mackenzie Miller. They were inducted last Wednesday, March 15th in a ceremony at the high school. The guest speaker for the evening was Ms. Holly Utke, CEO of Dakota Central. She gave an excellent real-life message about growing up, perseverance, being a leader and giving back to others in service that all students can apply to their lives as they transition to life after high school. Many thanks goes to the current NHS officers, Ms. Brandt, Ms. Peterson, Mrs. Johnson for helping make the event a success. Again, CONGRATULATIONS to our newest members of the National Honor Society!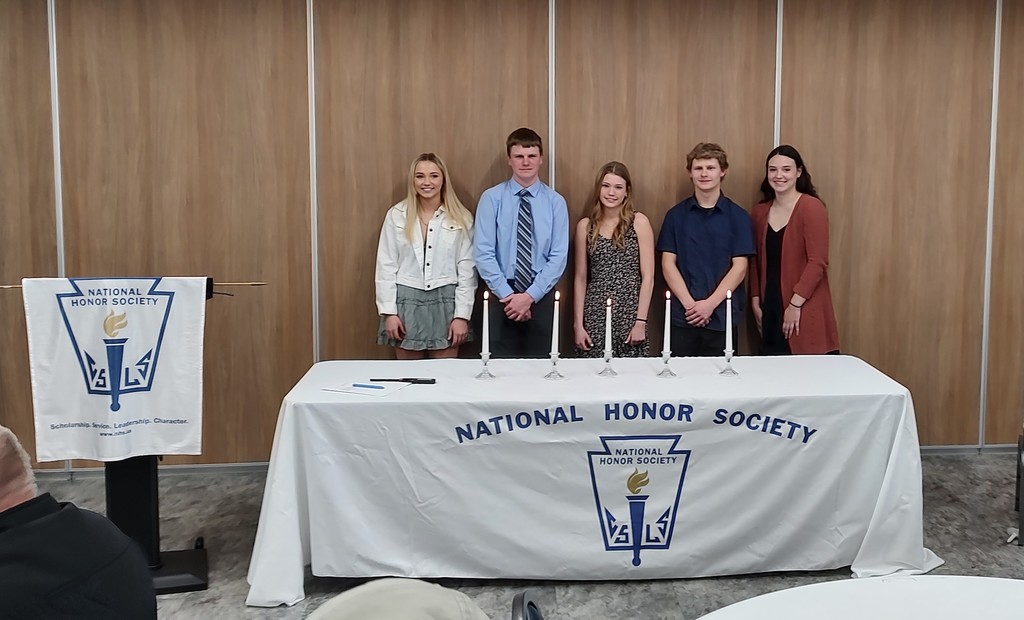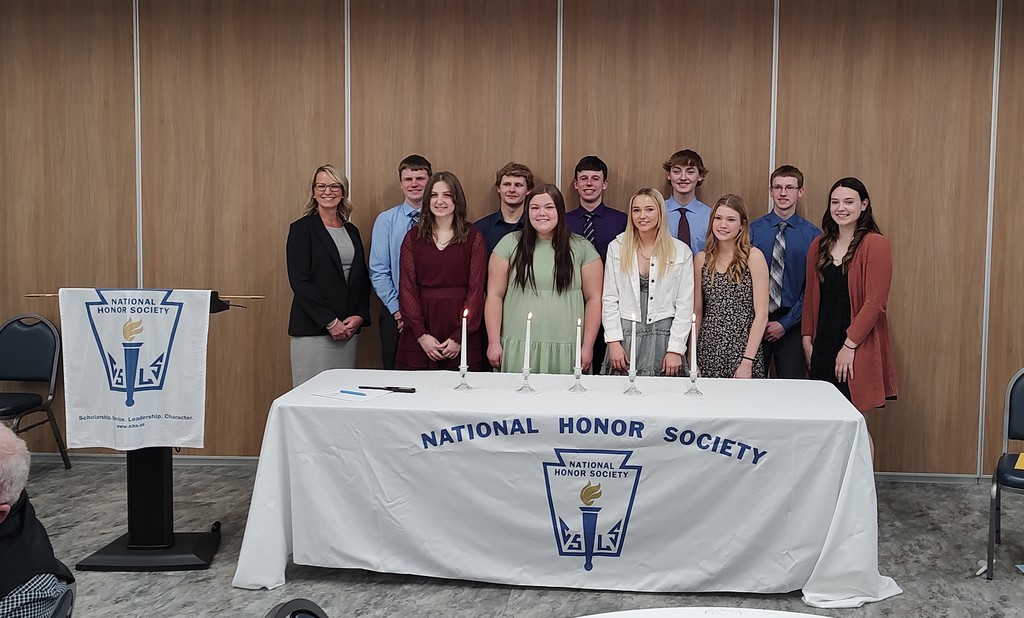 Have a great week!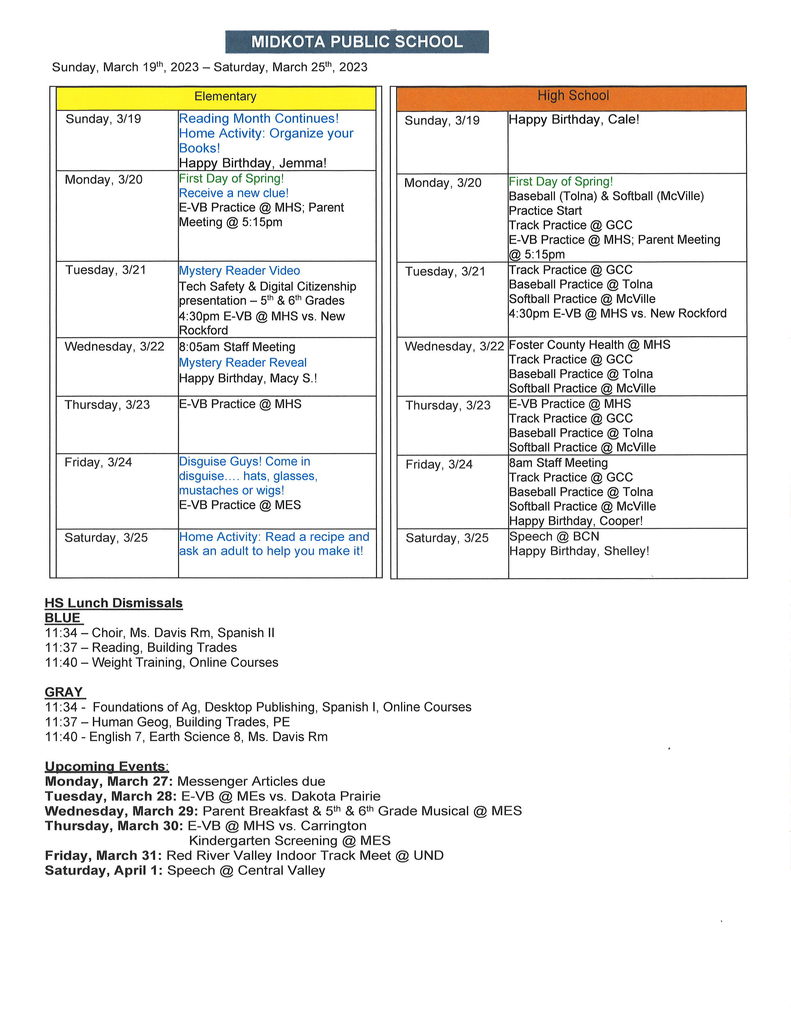 Quick reminder that baseball and softball practice begin tomorrow. Athletes must have all documentation in before they are allowed to practice.

Our academic challenge team was in Hatton yesterday for the regional competition. They placed 4th in their division and just missed the lightning round by one point. Good job team!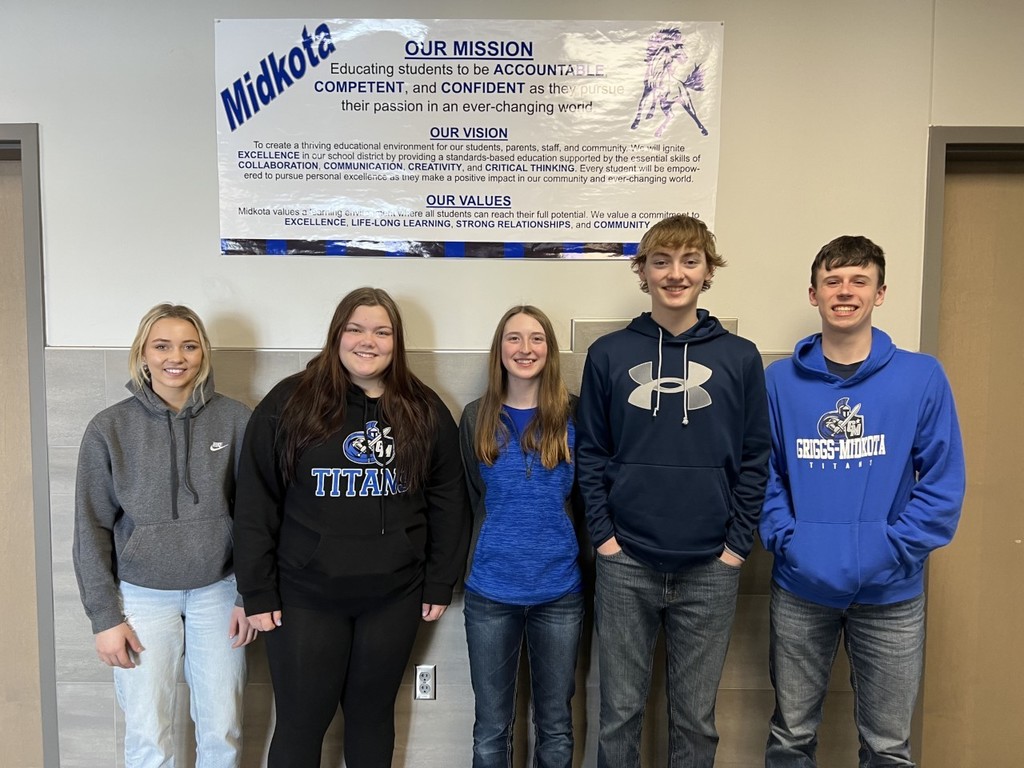 There will be no activities today. Elementary Volleyball parent meeting is rescheduled to Monday 3/20 @ MHS @ 5:15!


The director of Unified Champion Schools for Special Olympics North Dakota is excited to announce that applications for the 2023-2025 Special Olympics North Dakota Youth Activation Committee are now open! The application is open to middle school, high school, and college students ages 14-20. See below for more information.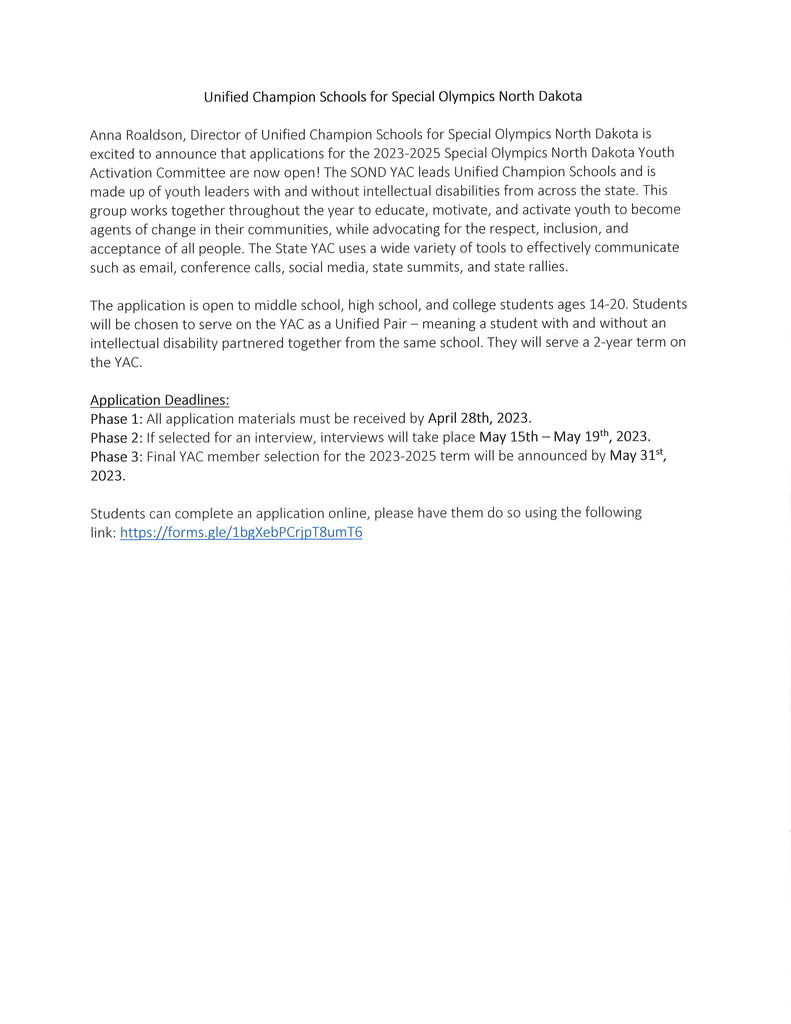 $500 Bank Forward Scholarships. See below for more information.