Foster County Health will be offering Health Services & Immunizations at several locations in Foster County this Winter & Spring including the Midkota communities of Grace City, Glenfield and McHenry. See below for more information.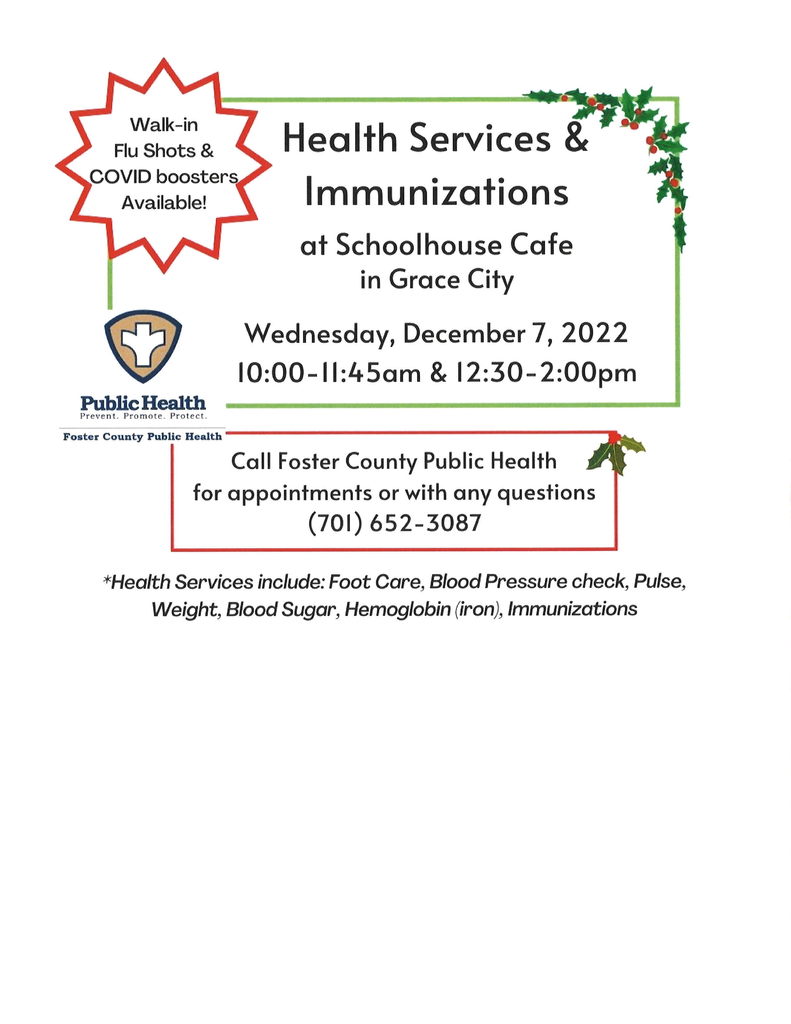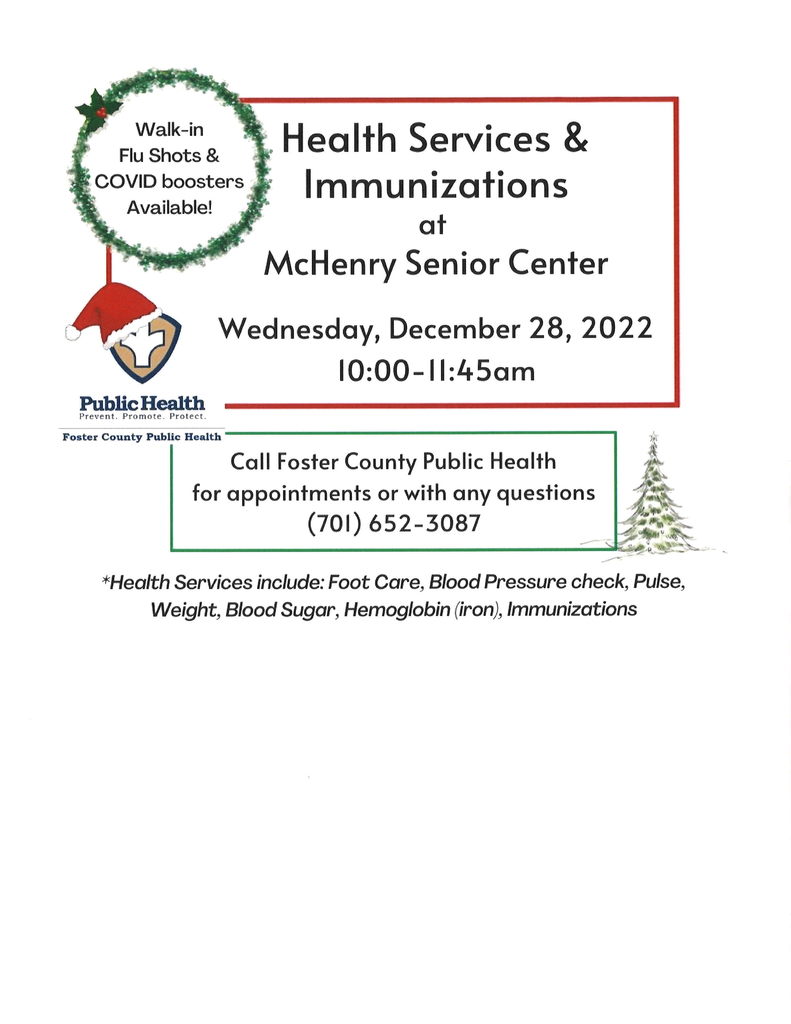 Foster County Health will be at MHS for Immunizations on Wednesday, December 14th for Students and Staff. If you would like to schedule your student for that day, please call Foster County Health at 652-3087.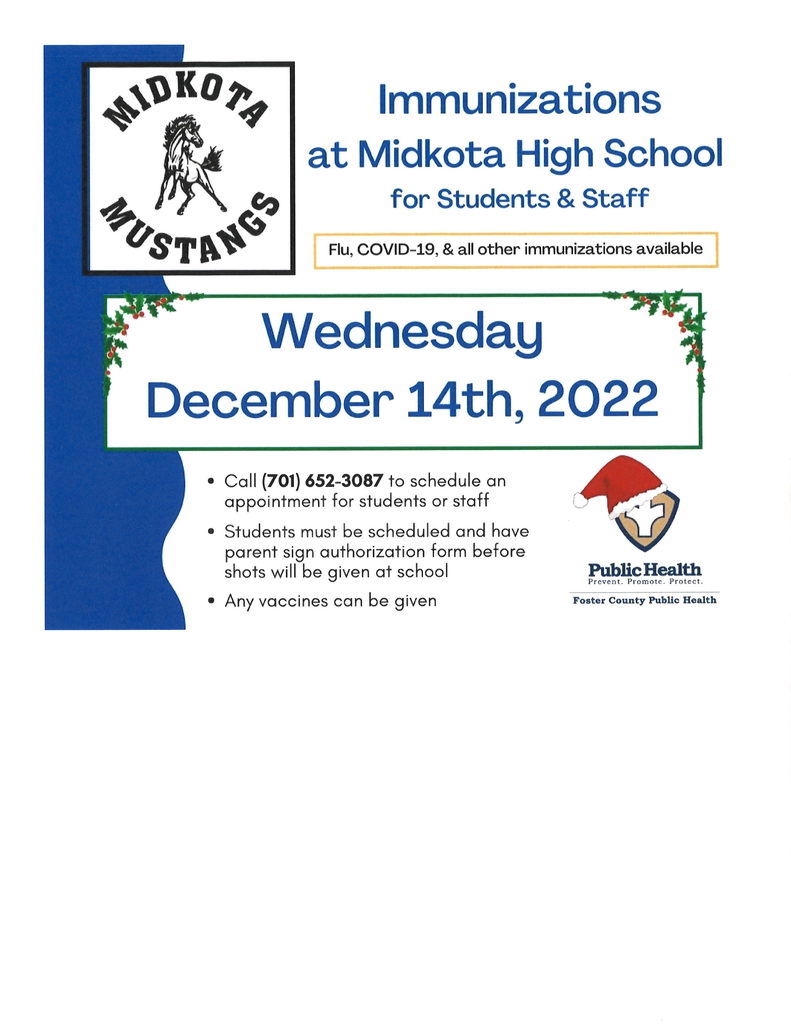 Schedule update: JH GBB Thursday 12/01 will be a modified game of 6 quarters. 3 quarters of 7th followed by 3 quarters of 8th.

Update to JH GBB practice schedule Wednesday 11/30 optional practice @ GCC Main with HS girls to get additional practices in before first game.

Tomorrow 11/29 JH GBB @ GCC Main is rescheduled to Tuesday December 13th @ Valley City with 7th grade starting at 4:30 and 8th grade to follow! It will be at VC North Gym. JH girls will practice @ MES on 11/29 with the game being rescheduled.

Boys basketball practice starts today so things are starting to get busy again. We will let you know as soon as we can about any changes regarding schedules. Have a great week!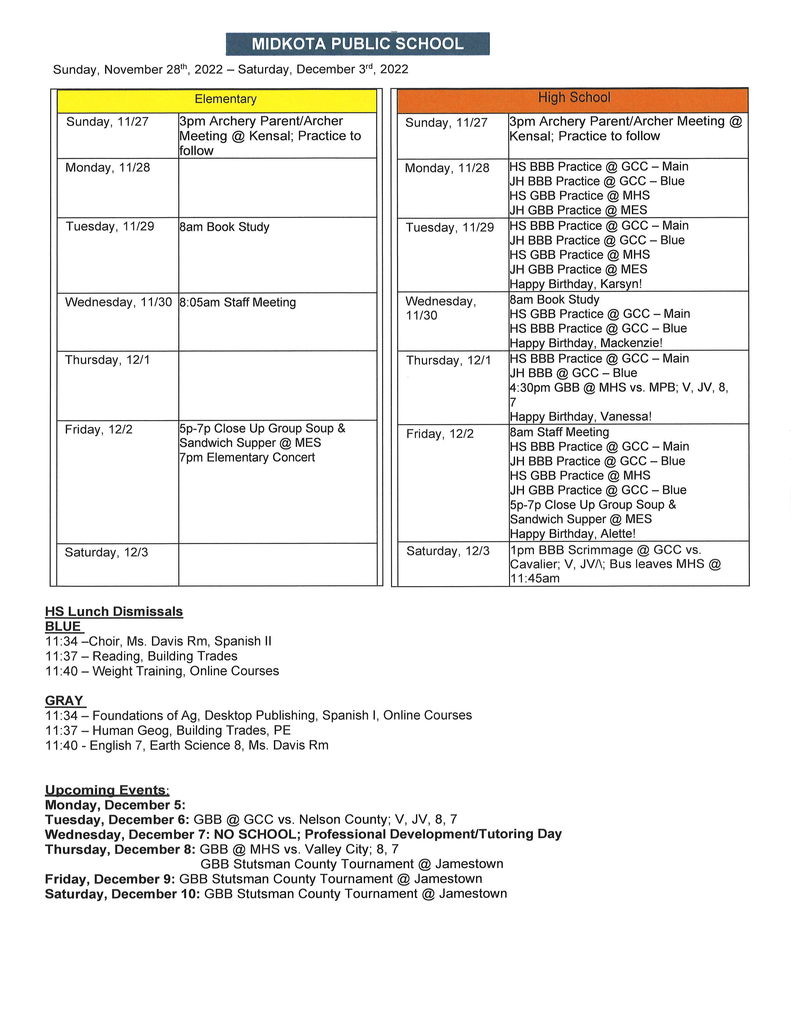 Parent letters went home in elementary backpacks today for the events coming up in these next few weeks. Happy Thanksgiving!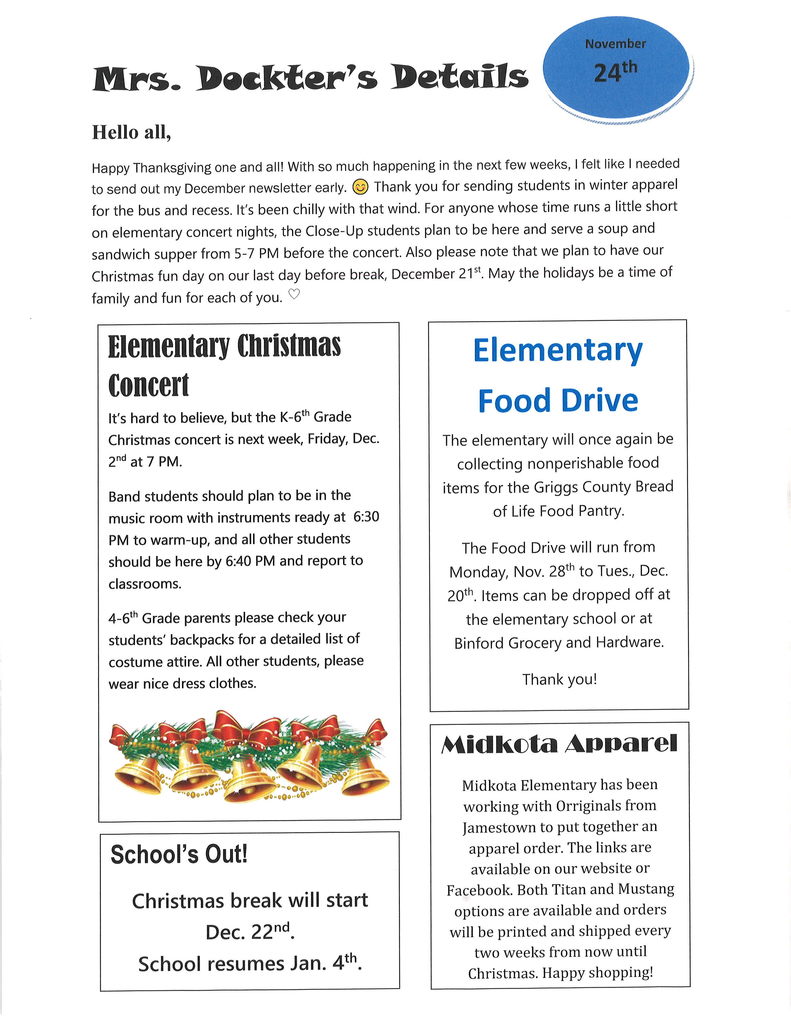 Dear Midkota Families, As we look ahead into the winter season and the weather that comes with it, we want to be prepared in the event we should have an extensive number of school closings. Virtual Learning may be utilized as a way to avoid having to make up time at the end of the year. Please see the attached letter and schedule for more information on how that process will work. Please feel free to contact either school office if you should have any questions.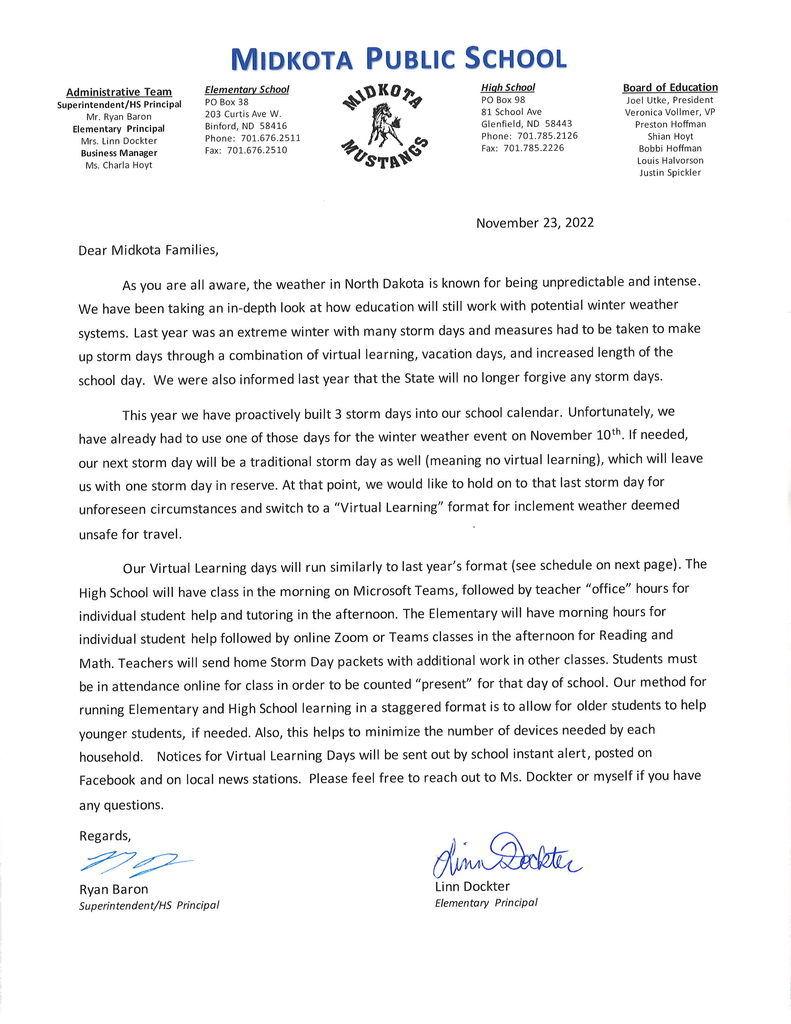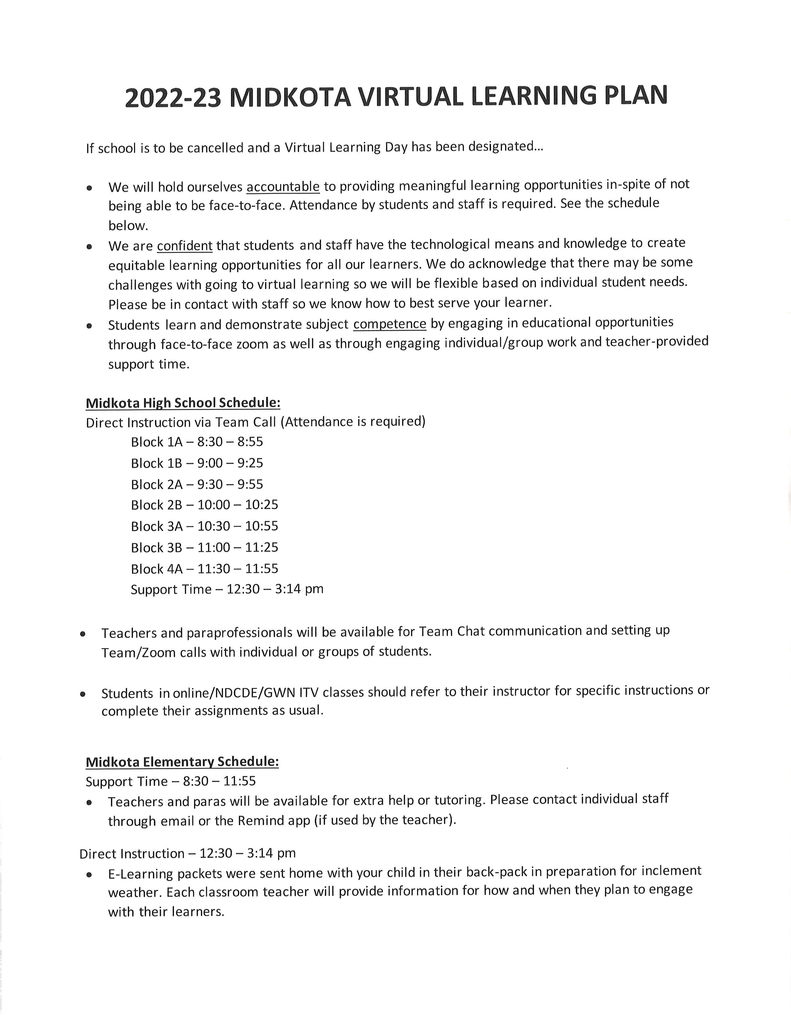 Congratulations to Midkota's Girls Golf, Volleyball, Girls Cross Country and Football players for receiving the NDHSAA Team Scholar Awards for 2022-23! To receive this award, each team's athletes from a school must maintain an average GPA of 3.2 or higher. Congrats again to these athletes!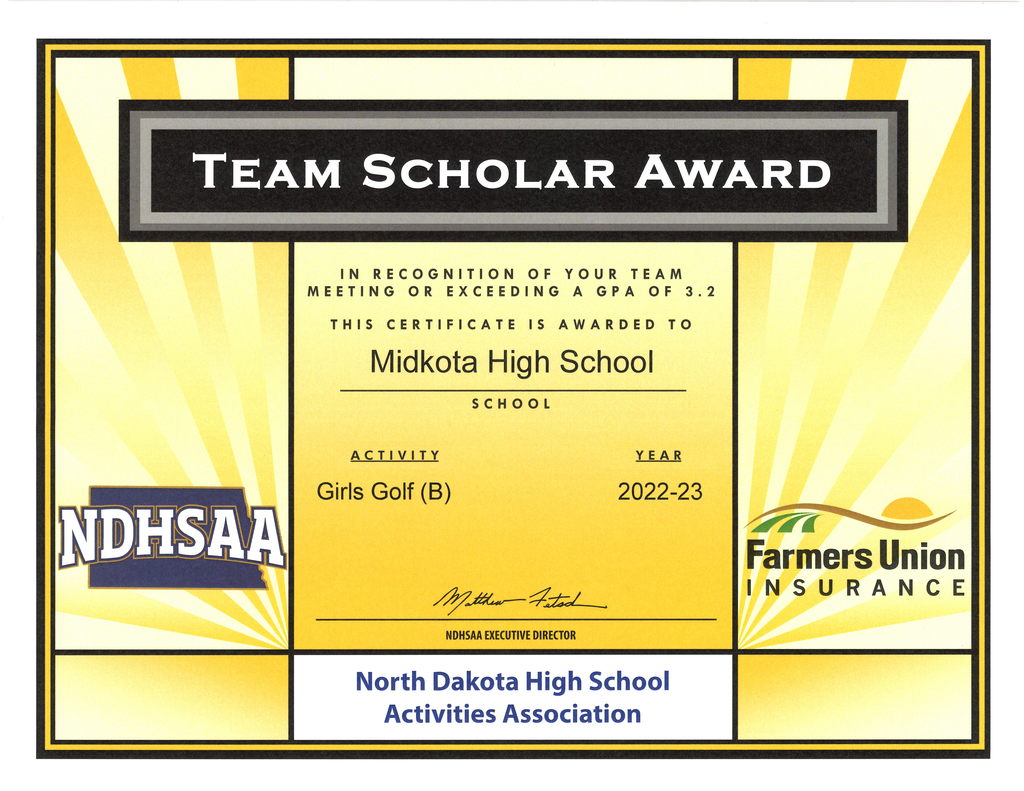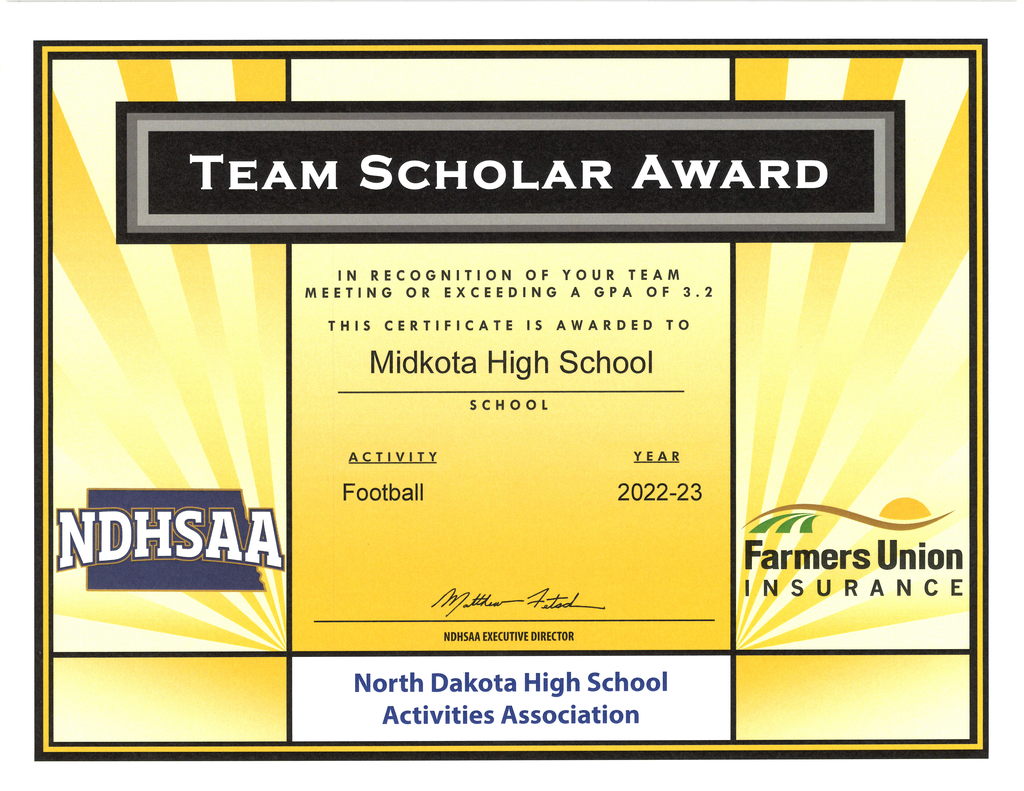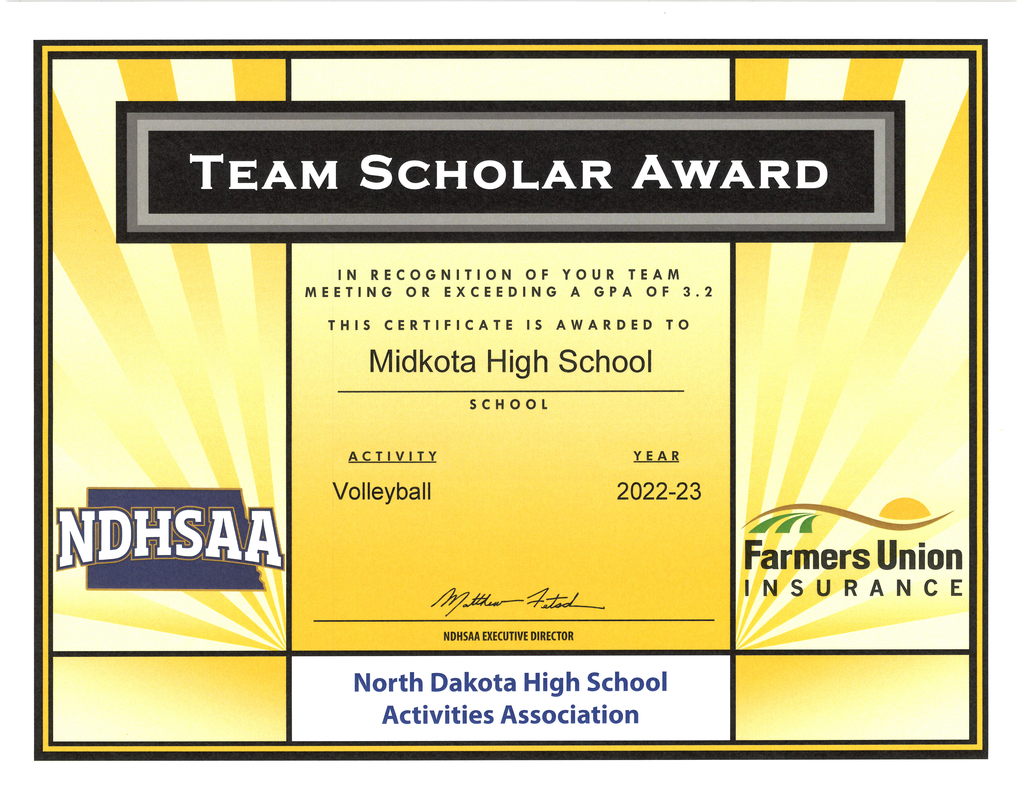 Update to GBB practice schedule. Practice Wednesday 11/23 has been moved for HS GBB to GCC. Also added to that schedule is an optional JH practice @GCC Blue @ 3:45-5:45.

Have a great week!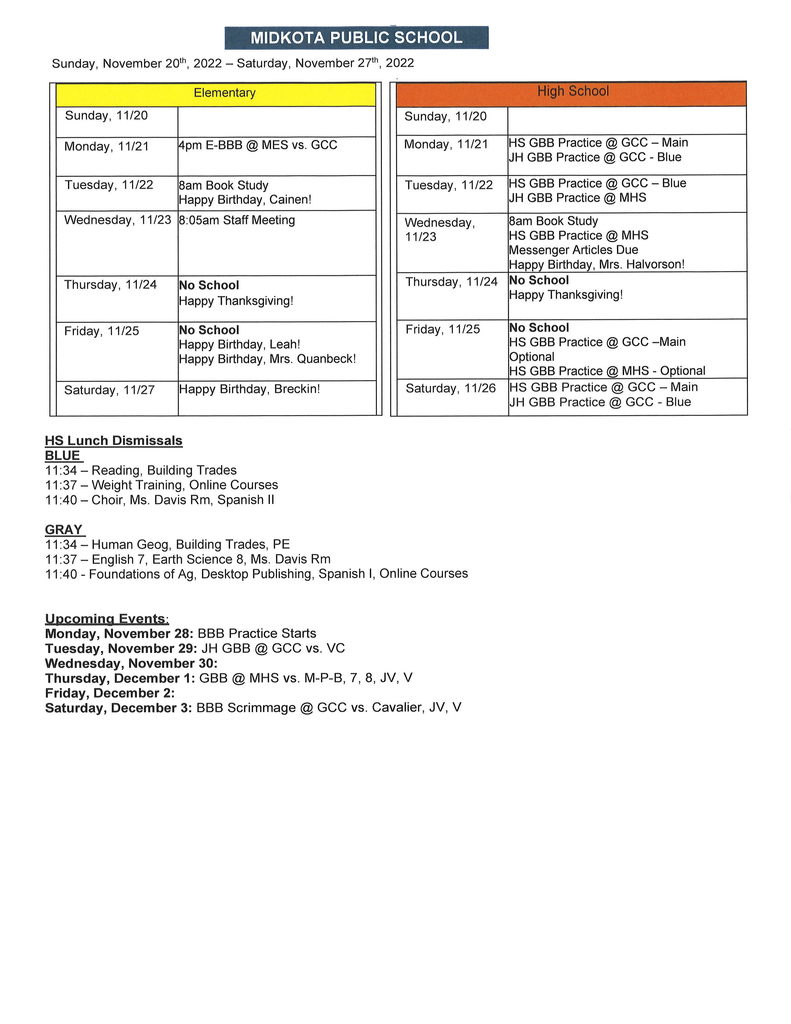 HS girls basketball pictures are Tuesday Nov 22!

Girls Basketball Schedule over Thanksgiving Break. Friday 11/25- (Optional skills practice) @ 6pm GCC- Coach Reidman will have GCC athletes. @ MHS coach Monson and coach Hoyt will have Midkota athletes Saturday 11/26- 9 am team practice @ GCC 7-12

The parent/archers meeting will be Sunday November 27th in Kensal at 3:00. Practice will follow.

Due to possible bad weather and roads, there will be NO After School Program today, Thursday, November 17th.

Great news Midkota! We have been working with Orriginals from Jamestown to put together some new apparel options just in time for Christmas shopping. We have apparel with traditional Mustang branding as well as our Titan branding. At Orriginals request, the options are on two separate web pages, but you should be able to toggle between links and still just check out once. Apparel orders will be printed and shipped every 2 weeks until Christmas. Happy shopping! Mustang Apparel link
https://www.orriginals.com/midkota-mustangs/
Titan Apparel link
https://www.orriginals.com/griggs-midkota-titans/

There will be a school board meeting tomorrow morning at 7:30am at the High School. See below for the agenda.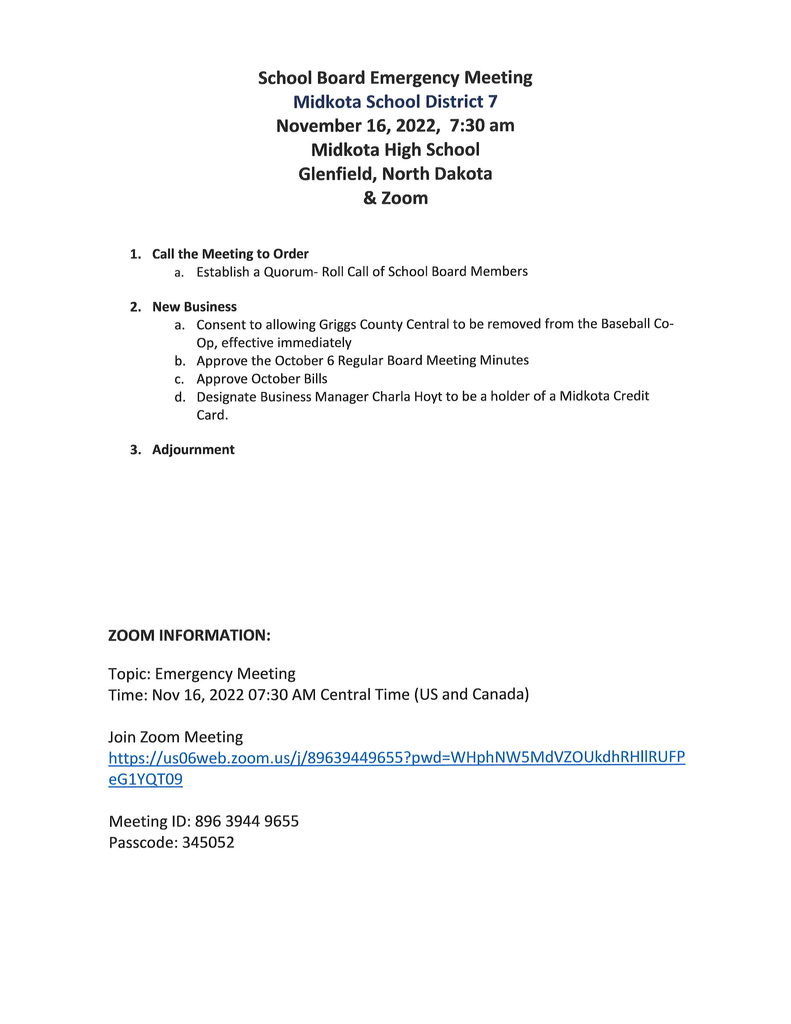 Mr. Monson's 8th grade Earth Science was busy with lab time today as they observed how different metallic ions react to oxygen when placed over heat and how each reflects light differently. Students were to guess the color of each element that was being burned. There were some good guesses. Strontium burned red (seen in the picture). I correctly guessed that copper would burn green. I had the Statue of Liberty to thank for that hint.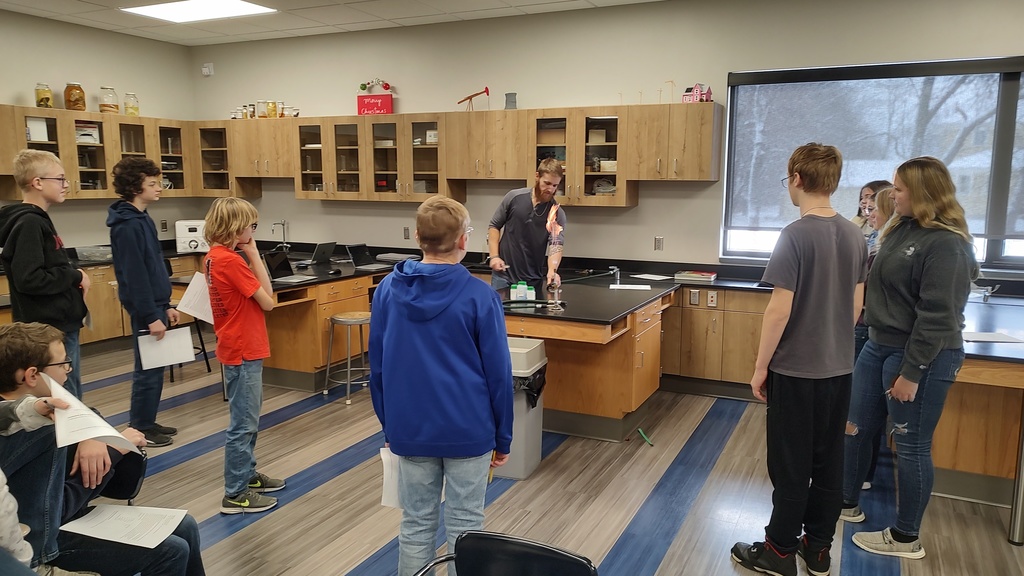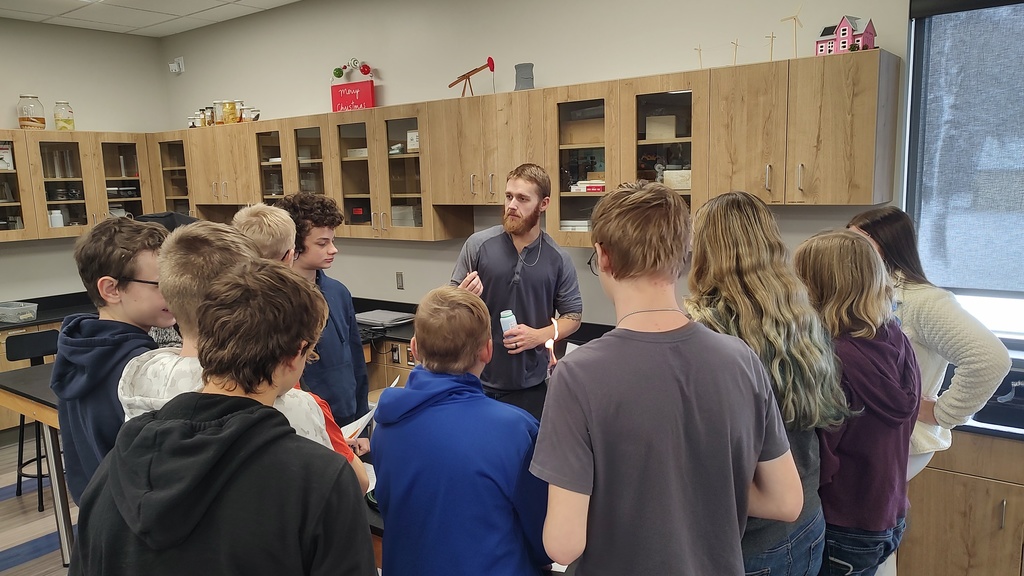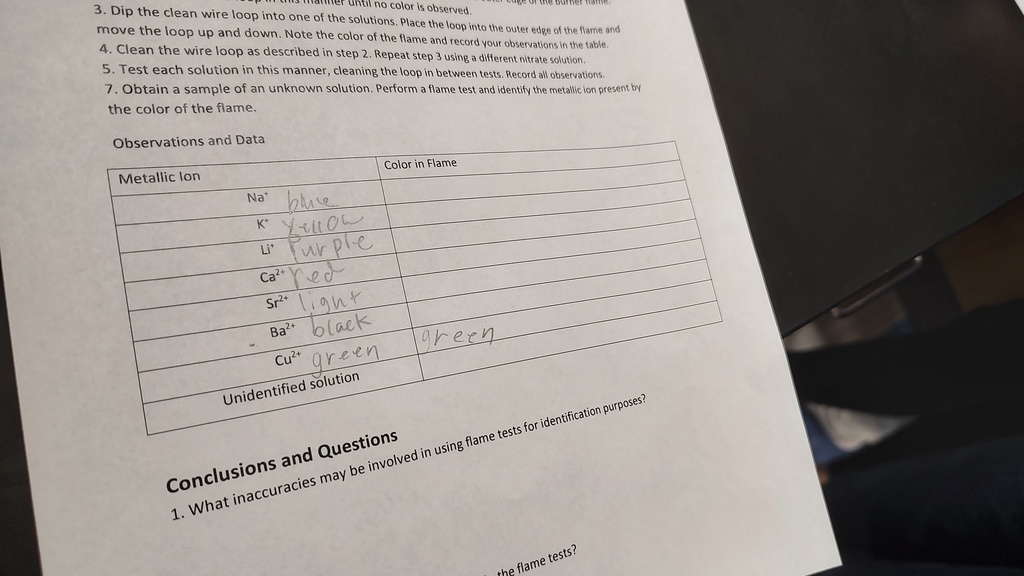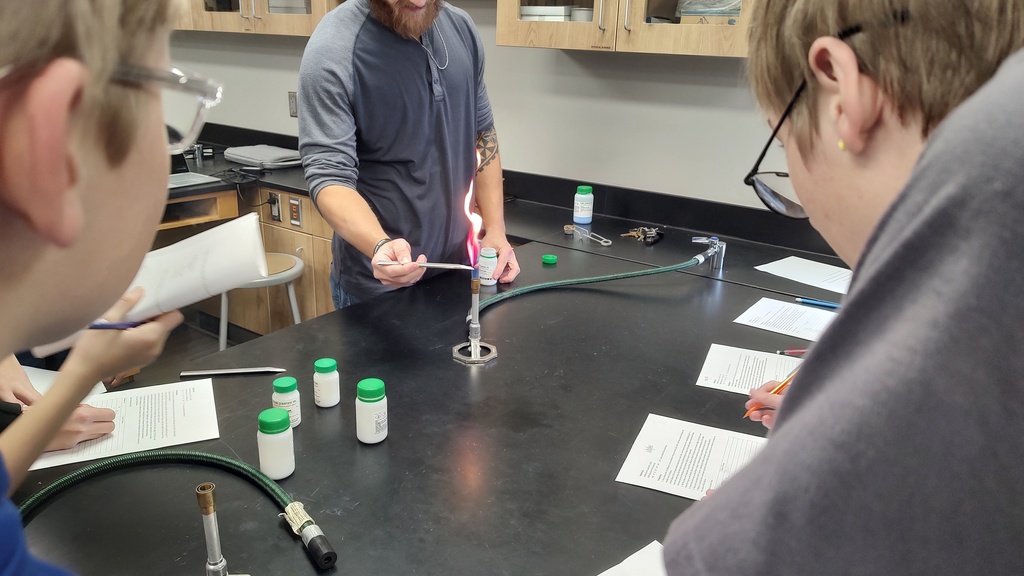 JH Girls Basketball pictures will be this Friday! Athletes should have order forms!

The elementary boys basketball leave time is being bumped up to 2:40. Game 1 is still at 4:30.