School Board Meeting agenda for March 14, 2023 at 7:30am in Glenfield.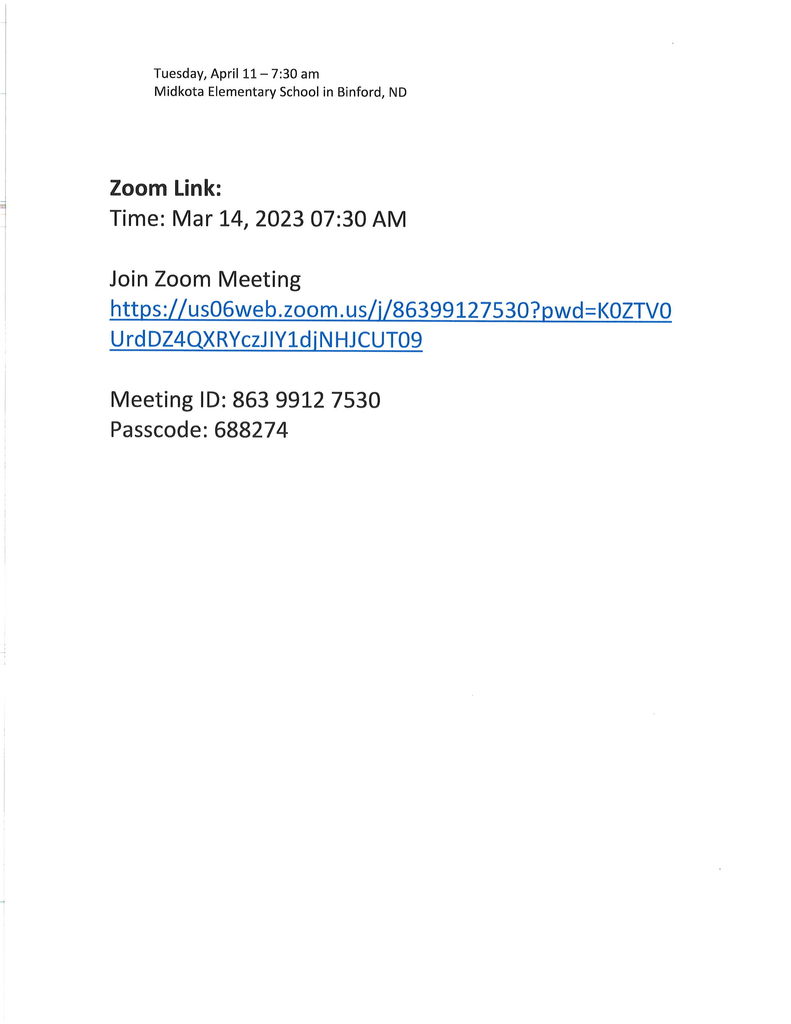 Kindergarten Screening has been scheduled for Thursday, March 30th from 9:30 to 11:30 AM at Midkota Elementary. Parent letters went out last week in the mail. If you did not get a letter and believe that your student should be a part of next year's kindergarten class, please call the elementary office for more information.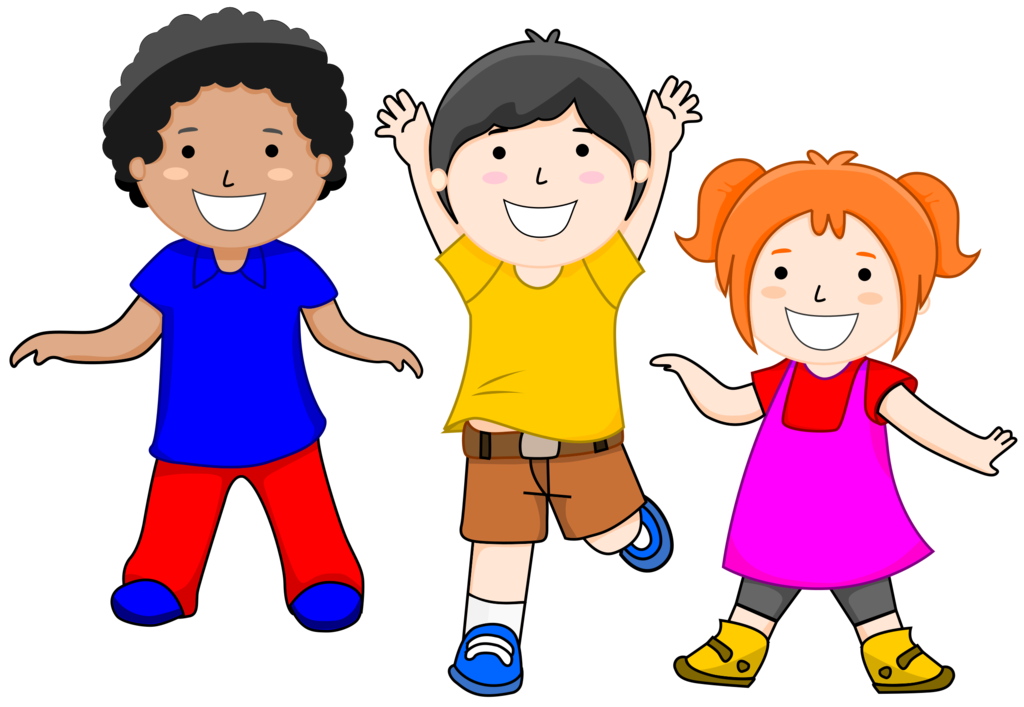 Have a great week!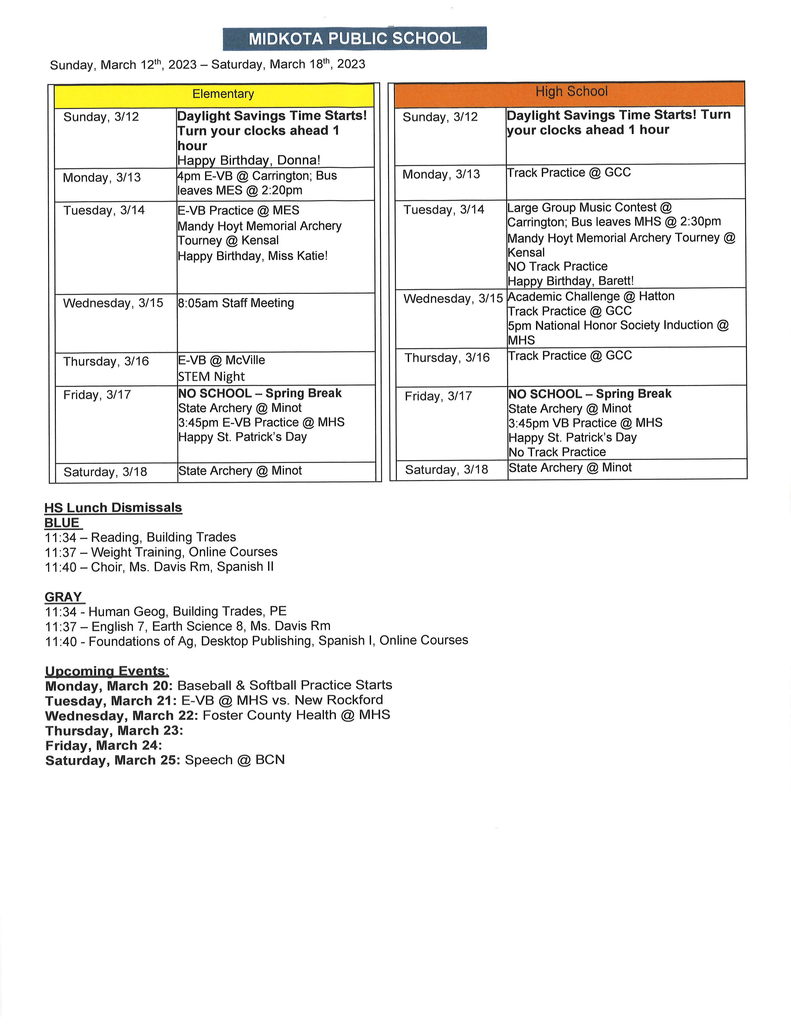 Update Elementary Volleyball Schedule Thursday 3/16 game vs Dakota Prairie is rescheduled to April 25th @ 4:00, girls will practice @ MHS on Thursday. The parent meeting will follow that practice 3/16.

Elementary volleyball today @ Carrington 5th grade at 4:00 and 6th at 5:00. Matches will be played in the east gym. Use door 7.

Good evening Midkota families- Midkota Public School plans to have classes tomorrow, Monday, March 13 with buses running at their regular time. With the surplus of snow that was dumped on our communities over the weekend, we would ask that you please contact your bus driver to make arrangements if roads are not passable for your bus route. Thank you for help in keeping our students amd drivers safe. Enjoy the rest of your evening.

Sunday 03/12- Baseball open gym is cancelled due to weather

Friday 3/10- Elementary Girls Volleyball practice is cancelled, due to concerns with weather & road conditions worsening.

The Speech Meet that was to be held at the High School this afternoon has been cancelled. High School students will still be dismissed at 3pm, Elementary students will be dismissed at their regular time.

Good evening Midkota families, Midkota Public School and buses will run 2 hours late tomorrow Friday, March 10. It is our hope that daylight will benefit students and staff with safer travel conditions by allowing plows to clear the roads. Please call bus drivers tomorrow morning if you believe that your roads are impassable. Thank you and stay safe Midkota.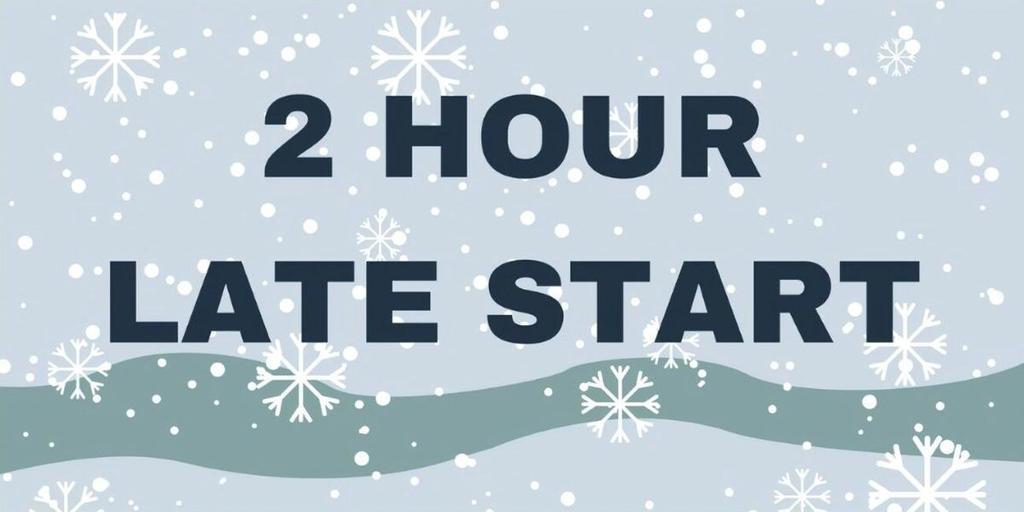 Friday 3/11 Elementary Vball Practice is being moved to MES. The parents meeting will be rescheduled to a date next week!

If your child is interested in signing up for the BCN Clay Target Team, see below for more information!

Congratulations to Midkota High School's February Mustangs of the Month! All three are very deserving of the honor.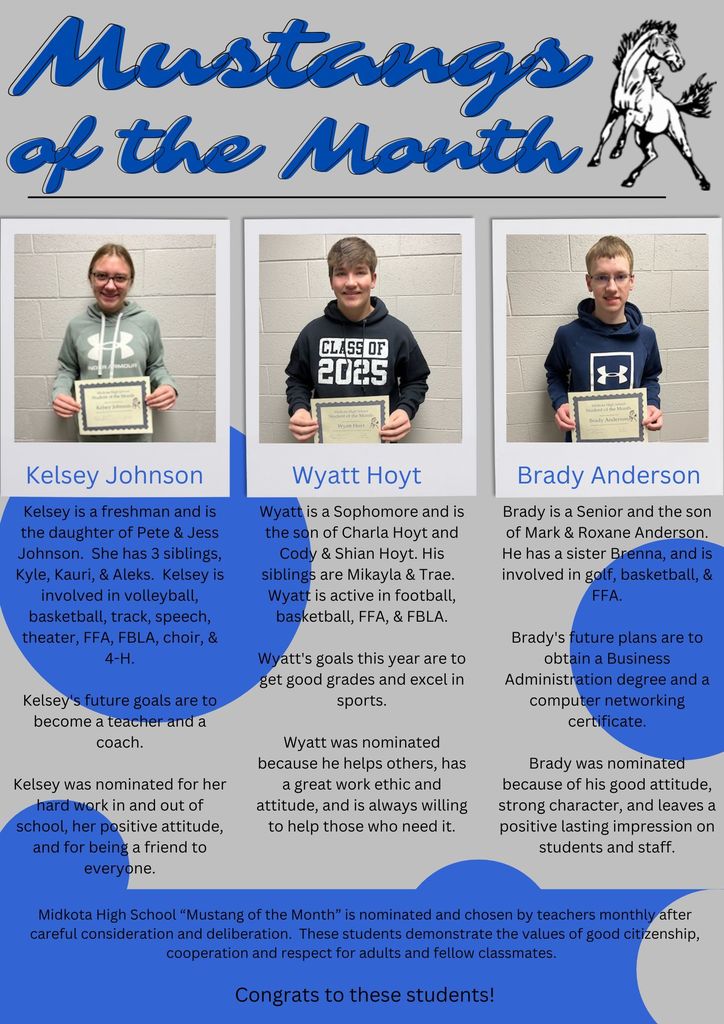 This past Saturday, Midkota's FFA team participated in the Livestock Evaluation contest in Turtle Lake. Midkota's team members were Wyatt Hoyt, Jacob Barclay, Mason Iverson, Bryce Utke, Brody Hoyt. While official team results are not known at this time, it is known that Wyatt Hoyt received a bronze ribbon for individual results! Team members had a great time in Midkota's inaugural participation in this CDE event! Livestock Evaluation is the North Dakota state contest to determine which team will represent North Dakota at the national level. The Livestock Evaluation CDE helps students learn to evaluate beef cattle, sheep, and swine and defend their decisions. At the competition, participants evaluate two classes of each species and place these classes based on market and breeding usage, physical characteristics, and performance records. Participants also determine keep/cull classes for market and breeding stock and give oral reasons explaining their placing of these classes. Congratulations again to Wyatt Hoyt on his bronze individual ribbon!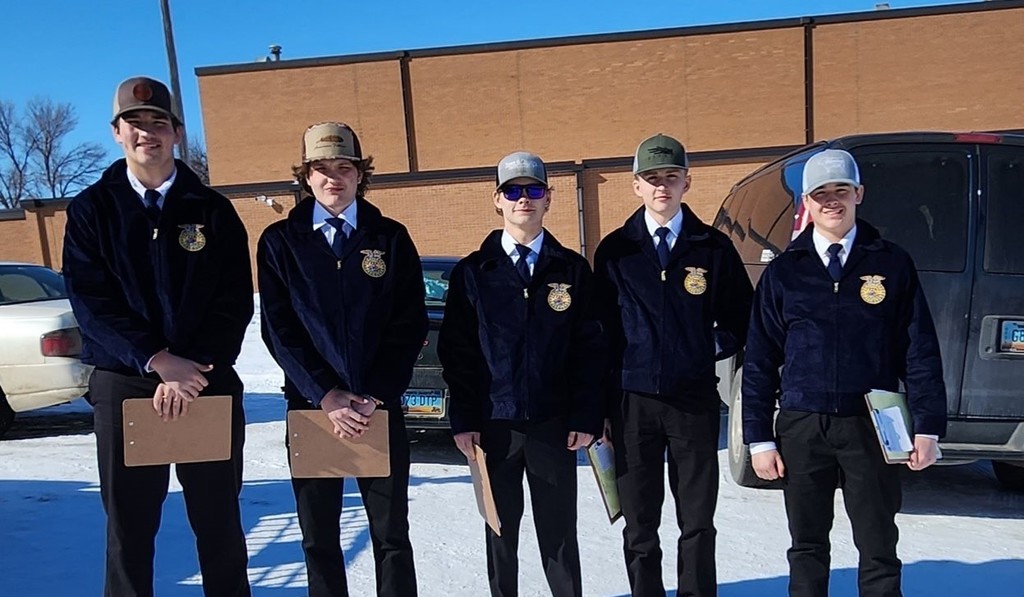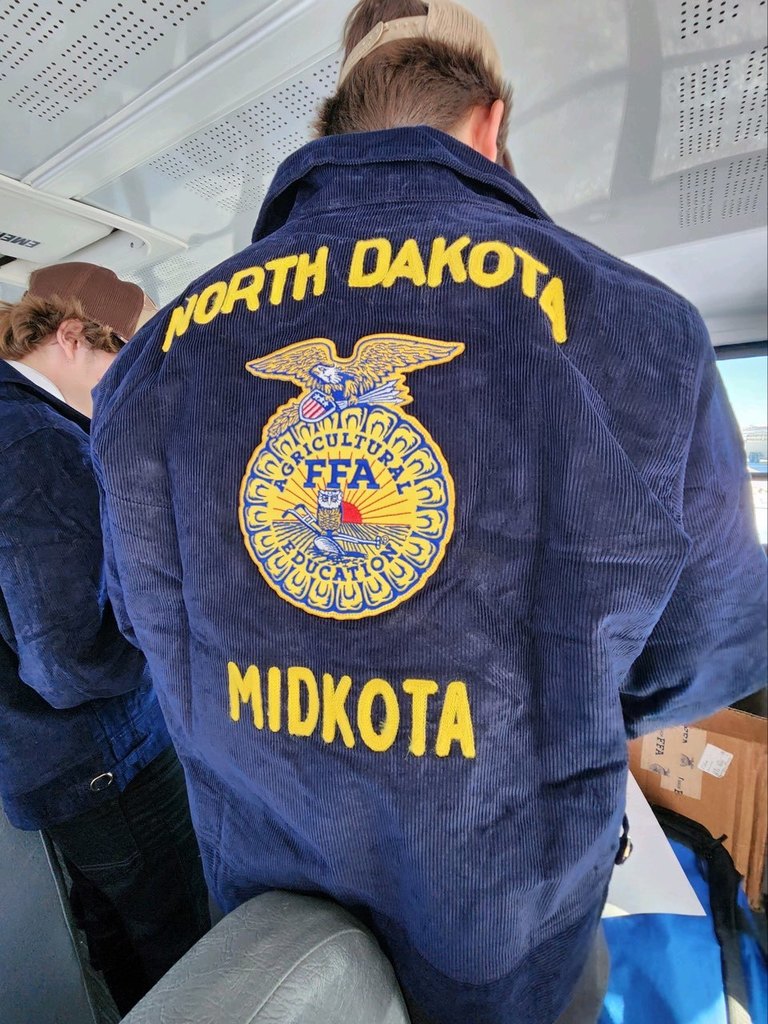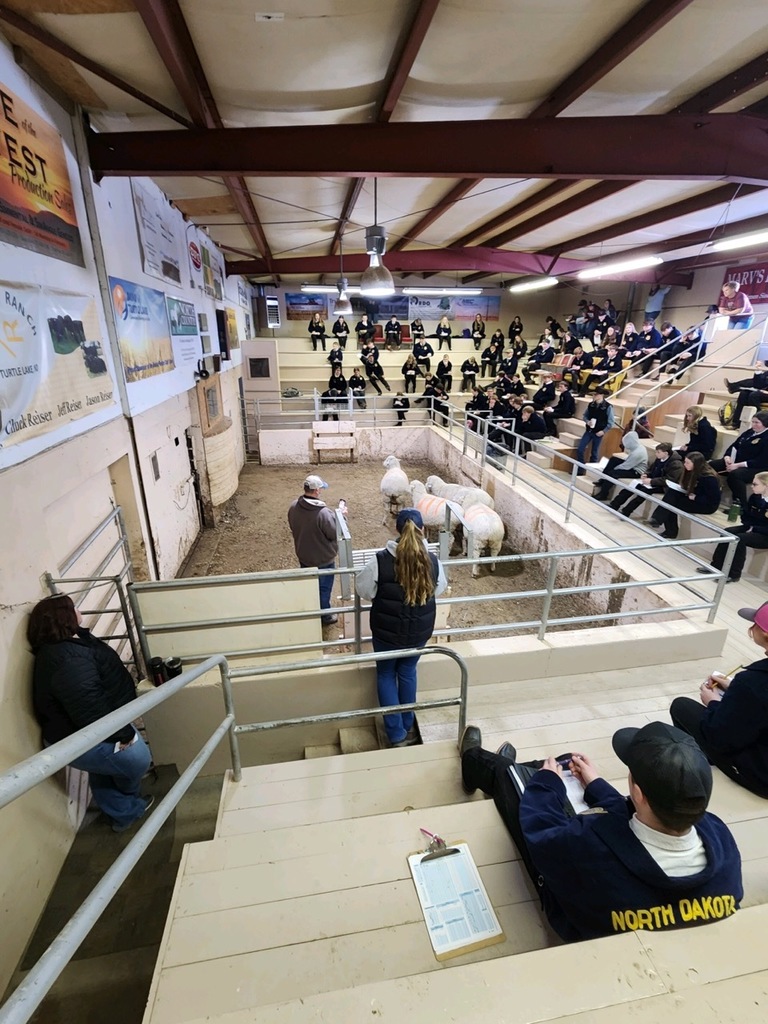 Week of March 5, 2023

Sports Coop meeting On Wednesday, March 8.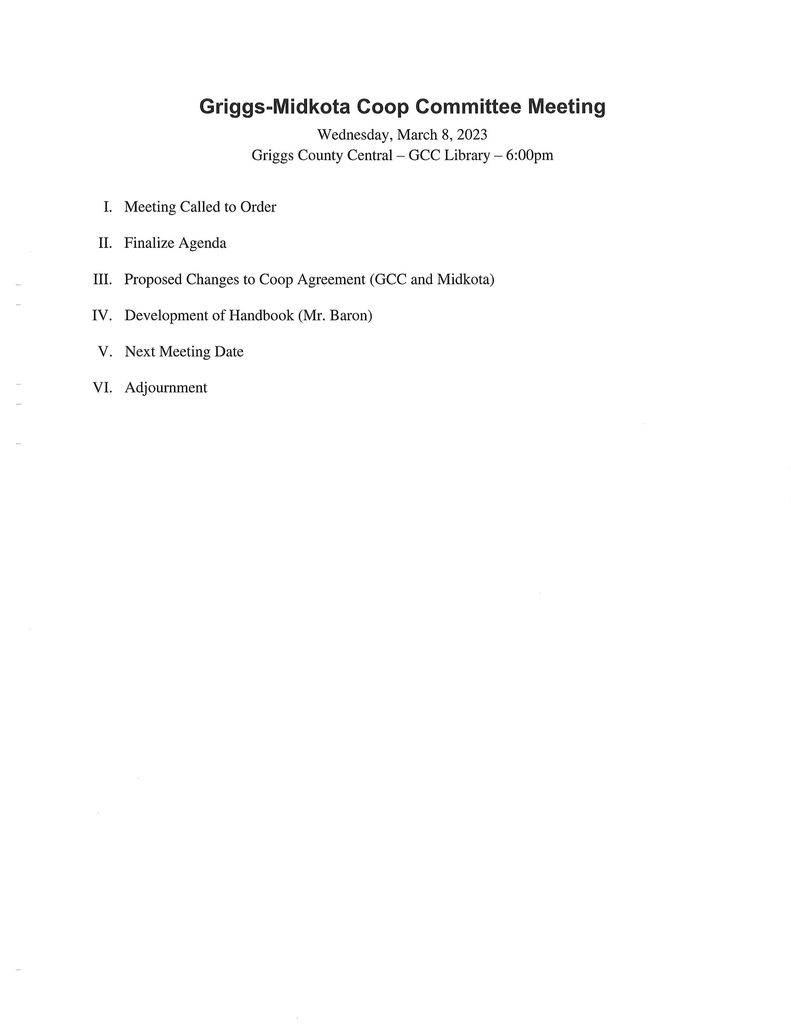 Quick reminder EVB practice will begin tomorrow. Friday March 10th, at the conclusion of practice there will be a parent/coaches meeting @ MHS.

With there being no school today, there will be no transportation to GCC for track.

The spring baseball parent/player meeting will take place on March 8th in McVille at 6:00 pm located in the small gym.